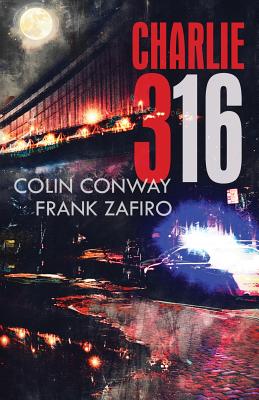 Charlie-316
Paperback

* Individual store prices may vary.
Description
Tyler Garrett is a model SWAT officer whose good looks, education and familial status add to that image. The fact that he is a black man in the predominately white Spokane Police Department only adds to the city administration's pride in one of their own. He's often pointed to as an example of the department's best and brightest--a young man on the rise.

One summer evening, Garrett stops a reckless driver. It's something he's done a thousand times except this time, gunfire erupts from a nearby house. As Garrett dives for cover, the driver turns and begins shooting as well. Garrett survives the ambush by killing the driver and chasing off the additional shooter.

The legend of Tyler Garrett grows and the community rallies around him.

Until the initial investigation determines the driver was shot in the back and his gun has somehow disappeared. Suddenly, the police department, city hall, and even the national news media are wondering just what happened that night? In a nation where police brutality dominates the headlines, Garrett's case has suddenly become a flashpoint.

Now, Officer Tyler Garrett must take matters into his own hands. Time is quickly running out for him to find the second shooter and to clear his name.

Praise for CHARLIE-316:

"A hard-hitting police conspiracy tale turned on its head, Charlie-316 bristles with authenticity and rich detail. Conway and Zafiro deliver an engrossing socio-political drama that packs plenty of action and intrigue, while asking the difficult questions. Corruption, conspiracy, and compromise frame the downfall of a perfect cop. And Wardell Clint is the most nuanced, fascinating detective I've read in a very long time. This one tackles tough issues and will leave no reader indifferent. Compelling." --James W. Ziskin, Anthony and Macavity Award-winning author of the Ellie Stone mysteries

"Riveting and compulsively readable, Charlie-316 is an ambitious book about many things including honor, the murkiness of politics, corruption, and a good man searching for the truth. Any fan of Don Winslow's critically-acclaimed The Force needs to be searching out and reading this book." --Dave Zeltserman, author of Small Crimes

"In Charlie-316, Conway and Zafiro, two master storytellers, have punched a hole in the blue wall in this compelling tale that offers the reader a no-holds barred, insider's view of corruption in a mid-sized American city." --Charles Salzberg, author of Second Story Man

"Crackles with authenticity and ripped-from-the-headlines urgency. This is a police procedural written by guys who know the job from the inside. It offers a full view of an incident that feels as real as they come. Charlie-316 is the ultimate ride-along." --Eric Beetner, author of All The Way Down

"Few books have the ambition to cover the scope attempted here; fewer can pull it off. Charlie-316 does more than pull it off: it succeeds. Not since The Wire have I seen a better mixture of crime, law enforcement, politics, and media." --Dana King, Shamus Award-nominated author of the Nick Forte and Penns River series

"Not since the glory days of Joseph Wambaugh has there been such an unflinching portrayal of working cops under pressure. In Charlie-316, Colin Conway and Frank Zafiro deftly juggle a complex cast of characters coping with the issues--racial, political, and personal--that boil around a controversial officer-involved shooting. Expect surprises. Highly recommended." --J.D. Rhoades, author of Fortunate Son, People Like Us, and the Jack Keller series
Down & Out Books, 9781948235686, 400pp.
Publication Date: June 10, 2019
or
Not Currently Available for Direct Purchase