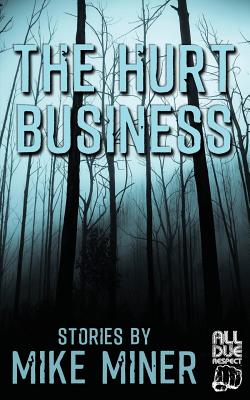 The Hurt Business
Paperback

* Individual store prices may vary.
Description
"We are such fragile creatures."

The men, women and children in these stories will all be pushed to the breaking point, some beyond. A failed boxer turned mob enforcer in Boston looks back on a life filled with pain, inflicted and endured. In Los Angeles, a recovering heroin addict revisits an old haunt on a twisted mission of mercy. Luck has run out for a crooked politician in Hartford who tries to cash in his chips before leaving town. Crazy visits a young boy in the form of a jilted actress who takes him on a doomed road trip he'll never forget. A little girl who doesn't want to lose her parents will commit a crime for all the right reasons.

Heroes, villains and victims. The lives Miner examines are haunted by pain and violence. They are all trying to find redemption. A few will succeed, but at a terrible price. All of them will face the consequences of their bad decisions as pipers are paid and chickens come home to roost. The lessons in these pages are learned the very hard way.

Throughout, Miner captures the savage beauty of these dark tales with spare poetic prose.

Praise for THE HURT BUSINESS:

"Mike Miner's short stories hit like a heavyweight's body shots. So buy this book, and tighten your abs. Or go buy Eat, Pray, Love and shut the f**k up." --Todd Robinson, author of The Hard Bounce and Rough Trade

"Mike Miner is a dissector of the human soul, and this piercing collection reminds us that the way people hurt each other and the way people love each other are inextricably linked." --Scott Adlerberg, author of Jack Waters and Graveyard Love
All Due Respect, 9781948235754, 164pp.
Publication Date: March 29, 2019