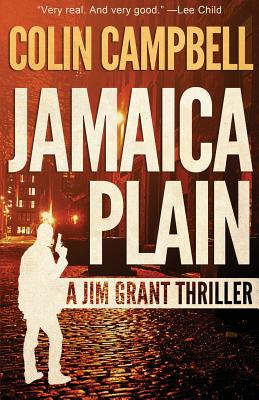 Jamaica Plain
Paperback

* Individual store prices may vary.
Description
Jim Grant is in Boston on temporary assignment from England and his instructions are simple: don't get involved and keep out of trouble. But for Grant, keeping out of trouble isn't an option. Never was and never will be.

BOSTON, MASSACHUSETTS

First thing Jim Grant does when he lands in Boston is buy a map. Second thing is get laid. The third is almost get himself blown up interviewing Freddy Sullivan, the prisoner he came all the way from Yorkshire to question. Despite being ordered to leave, Grant continues to investigate with the help of veteran detective Sam Kincaid and troubled ex-marine John Cornejo. Until Grant discovers the truth behind Sullivan's activities. A truth that leads to a deadly race against time and an explosive climax.

Praise for the books by Colin Campbell:

"Very real. And very good." --Lee Child

"A cop with a sharp eye, keen mind, and a lion's heart." --Reed Farrel Coleman

"Campbell writes smart, rollercoaster tales with unstoppable forward momentum and thrilling authenticity. The Resurrection Man series is a blast." --Nick Petrie

"Grim and gritty and packed with action and crackling dialogue." --Kirkus Review, for Jamaica Plain

"Action packed. Tough-as-nails. The pages fly like the bullets, fistfights and one-liners that make this one of my favourite books of the year. Top stuff " --Matt Hilton

"Campbell's wry maverick Grant never fails to entertain." --Kirkus Review, for Montecito Heights

"Sets up immediately and maintains a breakneck pace throughout. Its smart structure and unrelenting suspense will please Lee Child fans." --Library Journal Review

"Harkens back to the gritty action series of the 70s and 80s, with a stylish noir voice." --Kirkus Reviews, for Adobe Flats

"Crackerjack entertainment: taut, gritty and full of devilish twists." --Kirkus Reviews, for Snake Pass

"Hard-hitting action and Grant's dry wit make this a rollicking good time." --Library Journal Review

"Campbell's Beacon Hill is a great tale of violence and intrigue, stretching across the Atlantic and back again. In it, Jim Grant proves he is the real deal." --Reed Farrel Coleman
Down & Out Books, 9781948235877, 334pp.
Publication Date: February 25, 2019