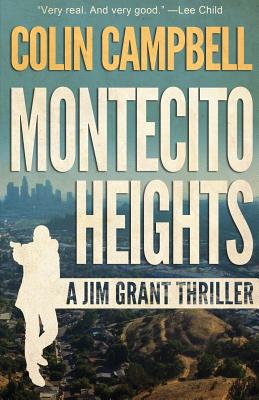 Montecito Heights
Paperback

* Individual store prices may vary.
Other Editions of This Title:
Paperback (4/8/2014)
Paperback (7/20/2018)
Description
Saving a senator's daughter from LA's porn industry is one gig that needs serious discretion. But discretion is not Jim Grant's specialty.

Los Angeles, California

It's not long before Grant finds himself on live television busting an armed robbery, spreading his arms wide to show he's unarmed--the same pose that earned him the nickname "Resurrection Man" in Boston.

The spotlight may be good for Grant's profile, but it's bad for his health. The Dominguez drug cartel is looking for him, and his work for the senator has uncovered a ring of dirty cops who want him out of the way. Helped by an ex-cop working on CSI: NY and hindered by a film crew that wants to make him a reality television star, Grant must tread carefully. In the city of angels corruption runs deep, loyalty is fragile, and justice is hard to find.

Praise for Colin Campbell

"Very real. And Very good." --Lee Child

Praise for the Jim Grant Thriller Series

"A cop with a sharp eye, keen mind, and a lion's heart." --Reed Farrel Coleman, for Jamaica Plain

"Campbell writes smart, rollercoaster tales with unstoppable forward momentum and thrilling authenticity. The Resurrection Man series is a blast." --Nick Petrie, for Beacon Hill

"Grim and gritty and packed with action and crackling dialogue." --Kirkus Review, for Jamaica Plain

"Action packed. Tough-as-nails. The pages fly like the bullets, fistfights and one-liners that make this one of my favourite books of the year. Top stuff " --Matt Hilton, for Jamaica Plain

"Campbell's wry maverick Grant never fails to entertain." --Kirkus Review, for Montecito Heights

"Sets up immediately and maintains a breakneck pace throughout. Its smart structure and unrelenting suspense will please Lee Child fans." --Library Journal Review, for Snake Pass

"Harkens back to the gritty action series of the 70s and 80s, with a stylish noir voice." --Kirkus Reviews, for Adobe Flats

"Crackerjack entertainment: taut, gritty and full of devilish twists." --Kirkus Reviews, for Snake Pass

"Hard-hitting action and Grant's dry wit make this a rollicking good time." --Library Journal Review, for Snake Pass

"Campbell's Beacon Hill is a great tale of violence and intrigue, stretching across the Atlantic and back again. In it, Jim Grant proves he is the real deal." --Reed Farrel Coleman
Down & Out Books, 9781948235884, 336pp.
Publication Date: April 29, 2019