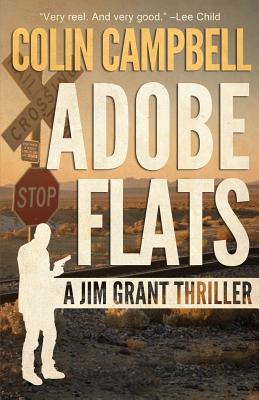 Adobe Flats
Paperback

* Individual store prices may vary.
Other Editions of This Title:
Paperback (7/23/2018)
Paperback (9/8/2014)
Description
It starts as a mission to honor a fallen comrade. It becomes a mission for justice.

On a personal journey to return an heirloom to the father of his former colleague and lover, Jim Grant isn't sure what to expect in the dusty flatlands of Texas. He isn't expecting trouble from the local cowboys, but trouble is what he gets. With instincts honed from years as a covert operator, Grant is a small town's last hope against an army of good old boys and a violent kingpin who has everything to lose. And if he manages to keep his boots above ground he may just be able to lay to rest the memory of a soldier who died too soon.

Praise for the books by Colin Campbell:

"Very real. And very good." --Lee Child

The Resurrection Man Series

"A cop with a sharp eye, keen mind, and a lion's heart." --Reed Farrel Coleman

"Campbell writes smart, rollercoaster tales with unstoppable forward momentum and thrilling authenticity. The Resurrection Man series is a blast." --Nick Petrie

"Grim and gritty and packed with action and crackling dialogue." --Kirkus Review, for Jamaica Plain

"Action packed. Tough-as-nails. The pages fly like the bullets, fistfights and one-liners that make this one of my favourite books of the year. Top stuff " --Matt Hilton

"Campbell's wry maverick Grant never fails to entertain." --Kirkus Review, for Montecito Heights

"Sets up immediately and maintains a breakneck pace throughout. Its smart structure and unrelenting suspense will please Lee Child fans." --Library Journal Review

"Harkens back to the gritty action series of the 70s and 80s, with a stylish noir voice." --Kirkus Reviews, for Adobe Flats

"Crackerjack entertainment: taut, gritty and full of devilish twists." --Kirkus Reviews, for Snake Pass

"Hard-hitting action and Grant's dry wit make this a rollicking good time." --Library Journal Review

"Campbell's Beacon Hill is a great tale of violence and intrigue, stretching across the Atlantic and back again. In it, Jim Grant proves he is the real deal." --Reed Farrel Coleman

The UK Crime Novels

"This is police procedural close-up and personal. A strong debut with enough gritty realism to make your eyes water, and a few savage laughs along the way." --Reginald Hill, for Through the Ruins of Midnight

"An excellent story well told. A mixture of The Choirboys meets Harry Bosch." --Michael Jecks

"Campbell's 30 years as a Yorkshire policeman infuse this unusual procedural with grim reality and the harsh humor that helps keep the coppers sane." --Kirkus Review, for Blue Knight White Cross

"Every detail feels authentic, and Campbell's dark, muscular prose suggests the best pulp writers of the '50s." --Kirkus Review, for Northern Ex
Down & Out Books, 9781948235891, 304pp.
Publication Date: June 24, 2019