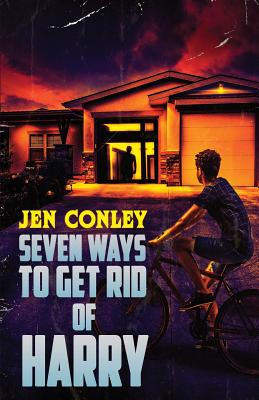 Seven Ways to Get Rid of Harry
Paperback

* Individual store prices may vary.
Description
Danny Zelko, 13 going on 14, needs to get rid of his mom's boyfriend, Harry. The guy is a creep. Drinks too much, locks Danny out of the house, gets in Danny's face and calls him Danielle.

Of course everyone blames Danny. It's his fault he gets into fights at school. It's his fault he can't control his anger. It's his fault Harry is such a jerk. Danny isn't such a bad kid--he has his own lawn business, makes his own dinner, even takes out the garbage and closes up the house without being asked. All he wants is for his mom to be like she used to be--a real mother who acted like one. Because Harry makes her stupid. When she gets around him, she forgets about her kids. Disappears with him, doesn't stick up for her own son. And the prospect of spending another day with this man makes Danny feel helpless and broken.

So when Danny's sister, Lisa, reveals that Harry and their mom are getting married, Danny, never the one to cower, decides to do something. That's right, one way or another, he will get rid of Harry.

Set in 1983, New Jersey, Seven Ways to Get Rid of Harry is packed with Danny's friends and enemies, a few fist fights, heartbreak and fury, and a little humor too.

Praise for SEVEN WAYS TO GET RID OF HARRY:

"Seven Ways to Get Rid of Harry is a poignant nostalgia trip to being thirteen in the 1980s that also has a sharp bite. It tugs at your heart-strings while making you laugh out loud. Never has the attempt to get rid of your mom's evil boyfriend been so charmingly portrayed. A must read " --Lee Matthew Goldberg, author of The Mentor and the Desire Card series

"Jen Conley brought me back to my childhood with this gripping debut. Danny Zelko battles with his mother's abusive boyfriend amidst the helplessness, confusion, and tumultuous friendships of his formative thirteenth summer. Sometimes harrowing, often funny, this is a great and necessary read for anyone who wants to understand what it's like for boys in that liminal stage, when faced with the challenge of a bad role model." --Thomas Pluck, author of Bad Boy Boogie

"Very few writers can do what Jen Conley does, striking the perfect balance between voice, character, and setting. But technical proficiency isn't what makes the book so special. Her story of a screwed-up kid learning to live without his father is heartbreaking, hopeful, at times hilarious, but above all, flat-out powerful. This book will be placed in the YA section, but it is so much more. Maybe it's because, with this book taking place in 1983, Danny Zelko would've been born the same year as I was. Maybe it's because I, too, had problems with authority, fitting in, and loved all things Pink Floyd. All I know is I couldn't put the book down. The story and dialogue are strikingly authentic, and the prose zips along. Mostly, though, I just wanted to put my arms around the kid and tell him that, yeah, thirteen sucks, and, no, I'm not gonna lie; it doesn't necessarily get better. But the bastards won't always be able to keep you down. As long as you keep fighting, kid." --Joe Clifford, author of the Jay Porter thrillers

"Seven Ways to Get Rid of Harry is a dark, heartfelt and hard-to-put-down novel. Conley's stark, realistic prose transports readers to a time and place when we were all 13 going on 14, and crafts the kind of YA story that feels exceedingly real and unique with a healthy dose of noir. Seven Ways to Get Rid of Harry is the kind of book that slithers into your brain and never leaves." --Alex Segura, author of Dangerous Ends and Blackout
Down & Out Books, 9781948235938, 230pp.
Publication Date: June 3, 2019