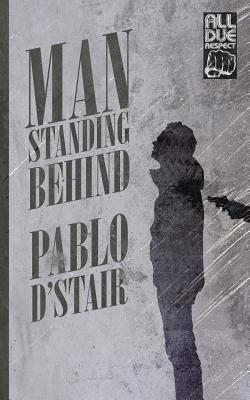 Man Standing Behind
Paperback

* Individual store prices may vary.
Description
Leaving work on a nondescript evening, Roger is held up at gunpoint when he stops at a cash machine. He attempts to hand everything in his bank account, but robbery isn't on the gunman's mind.

Roger is told simply to walk.

The gunman takes him on a macabre odyssey―from city pubs to suburban neighborhoods to isolated homes in the country―and as the night presses on, a seemingly not-so-random body count grows around him.

A moment-by-moment exploration of moral paralysis, Man Standing Behind charts the psyche of a random man caught in the roils of a mortal circumstance nothing to do with his own life. Is he a witness, a victim...or something altogether worse?

Praise for MAN STANDING BEHIND:

"This is where D'Stair shines. He has the ability to take a situation, one which might traditionally be addressed emotionally, and analyze it to the point of emotional emptiness. Life and death...is not a fight or flight, subconscious decision, but is one to be pondered, examined, weighed against context." --Caleb J. Ross, author of Stranger Will, I Didn't Mean to be Kevin, and The Soul Standard

"Over the years I've stopped being astonished at the multifarious things that Pablo D'Stair can do well. Let's just say it: whatever he puts his hand to he accomplishes and with a style and panache that is his alone. So, while this short noir, Man Standing Behind...does completely satisfy, even thrill. The language is precise. The mood spot-on. The characters well-wrought and whatever the opposite of clich is. Original. Idiosyncratic. Off-kilter. Strange. The slap-back dialog, the scenes as accurate as if directed by Fritz Lang. This is D'Stair's world. Welcome to it. I envy you if this is your first time in." --Corey Mesler, author of Memphis Movie and Camel's Bastard Son

Praise for the work of Pablo D'Stair:

"Somehow again and again you're drawn in...you get used to the book's rhythm and follow it because the work is obsessive. We find ourselves in a languid kind of suspense, bracing ourselves..." --Bret Easton Ellis, author of American Psycho, Rules of Attraction, and Lunar Park

"Pablo D'Stair doesn't just write like a house afire, he writes like the whole city's burning, and these words he's putting on the page are the thing that can save us all." --Stephen Graham Jones, Bram Stoker Award-winning author of Mapping the Interior, Mongrels and All the Beautiful Sinners

"Pablo D'Stair is defining the new writer and the new film maker]. There is NO ONE else. As reckless as Kerouac's 120-foot trace paper, D'Stair's independence from all of us needs to be studied and celebrated. This is revolution. D'Stair's late realism needs to be included in any examination of the condition of the novel." --Tony Burgess, award-winning author/screenwriter of Pontypool Changes Everything and People Live Still in Cashtown Corners

"Like Kerouac before him, I felt there was one roll of paper on which the story was typed. And there's a rhythm behind it. Not the speedy bop of jazz this time, more an urban dubstep. Shadows and edges becoming audible." --Nigel Bird, author of Smoke and In Loco Parentis
All Due Respect, 9781948235983, 108pp.
Publication Date: May 24, 2019