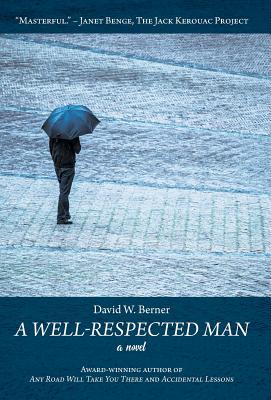 A Well-Respected Man (Hardcover)
Strategic Book Publishing & Rights Agency, LL, 9781948260015, 184pp.
Publication Date: January 4, 2018
Other Editions of This Title:
Paperback (1/4/2018)
* Individual store prices may vary.
Description
Professor Martin Gregory is a respected Chicago writer. After falling in love with a student and eventually losing both her and his job, he moves to the English countryside to re-balance his life.
Is his character strong enough to confront what he discovers there, or will he run from his biggest challenge?
Chicago Professor Martin Gregory is the author of a critically acclaimed novel of love and longing, a cult favorite among women. The book brings him unexpected status and prestige, but also unwelcome fame.
A love affair with one of his students derails his career and breaks his heart. Coming to terms with a life knocked off balance, Martin retreats to a quiet English village, only to be confronted at his flat by a mystery woman with an unexpected message and an implausible request, one that could alter his life forever.
A cross-country train trip, a visit to his father's grave, and a re-examination of a deep loss will eventually reveal either Martin's greatest character or unearth his most heartbreaking flaw.
A Well-Respected Man is about the hard choices we make to find fulfillment, and the search to discover meaning in both the life we choose and the one thrust upon us.
David W. Berner is the recipient of the Chicago Writers Association Award, the Royal Dragonfly Book Award, and has been short-listed for the Eric Hoffer Grand Prize. He has been honored as the writer-in-residence at the Ernest Hemingway Birthplace Home in Oak Park, Illinois, and at the Jack Kerouac Project in Orlando, Florida.
He lives in Illinois with his wife, Leslie, and their dog, Sam.
"David W. Berner uncovers the fabric of what is ultimately important to all of us - family, connectivity to others, and self-sacrifice in order to lift those we love a little higher. A Well-Respected Man is a treasure-trove of introspection, getting to the heart of what touches all of our lives and at times, our souls." - Sue Rovens, author of In a Corner, Darkly: Volumes 1 & 2
"Thought-provoking ... a story of how love never goes away." - Nancy W. Sindelar, Ernest Hemingway Foundation of Oak Park, Illinois
"Award-winning author David W. Berner intertwines complex timelines in effortless fashion while creating characters of great depth. Typical of Berner's work, the reader is left to contemplate life's toughest decisions. A Well-Respected Man is a must read " - Geralyn Hessalu Magrady, author of Lines
Publisher's website: http: //sbprabooks.com/DavidWBerner