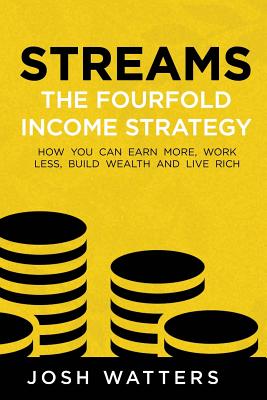 Streams (Paperback)
The Fourfold Income Strategy
Bookpatch LLC, 9781948339285, 62pp.
Publication Date: December 18, 2017
* Individual store prices may vary.
Description
Let's face it, we live in a "side hustle" generation. Which makes it clear that most are in need of more income, or simply want to increase their finances. There is a better way - a strategic way - to build a life of wealth and rich experiences outside of the 9-to-5. But you've got to build income streams. And that is why I'm introducing my Fourfold Income Strategy. This book was written for people who want to make more money, work less, build wealth and live a life full of rich experiences. This is the book I wish I had in my early 20's. Everything I've put into this book comes from lessons I have learned first-hand over the past 5 years of my life. In this book, I teach how anyone can create multiple income streams - doing what they love, doing what they are purposed and passionate about - and build wealth enough to live a stress-free life. Period. It's simple. In fact, my wife and I have been raising our family off of income streams created years ago. My wife is a blogger and stay-at-home mom, I tend to our income streams, and we both home school our three daughters. I'm not saying that you won't have to work, but there is a difference between slaving away at a 9-to-5 and working to build real wealth. My aim is to show you the reality that you too can build these very defined streams of income for yourself. My strategy isn't complex, and you won't need a big budget or a pipe dream to get started. All you need to do is commit to reading the book in it's entirety and preparing to take action. The time is now. Let's build your income streams and change your life.