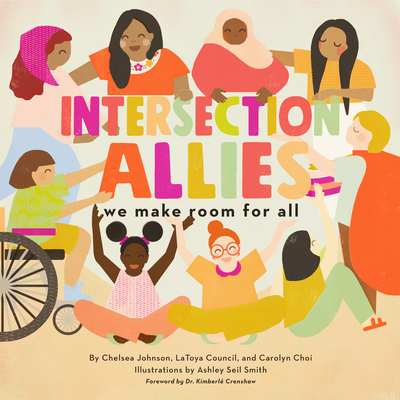 Intersectionallies (Hardcover)
We Make Room for All
Dottir Press, 9781948340083, 56pp.
Publication Date: July 16, 2019
* Individual store prices may vary.
Description
The brainchild of three Women of Color sociologists, IntersectionAllies is a smooth, gleeful entry into identity politics.
The ten interconnected characters proudly describe themselves and their backgrounds, involving topics that range from a physical disability to language brokering, offering an opportunity to take pride in a personal story and connect to collective struggle for justice.
The group bond grounds the message of ally-ship and equality. When things get hard, the kids support each other for who they are: Parker defends Kate, a gender fluid character who eschews skirts for a superman cape; Heejung welcomes Yuri, a refugee escaping war, into their community; and Alejandra's family cares for Parker after school while her mother works. Advocating respect and inclusion, IntersectionAllies is a necessary tool for learning to embrace, rather than shy away from, difference.
Featuring gorgeous illustrations on every page by Ashley Seil Smith and a powerful introduction by activist and law professor Kimberl Crenshaw, who coined the term intersectionality.
About the Author
AUTHORSChelsea Johnson was often the only black girl in her classrooms--an "outsider within" mostly white schools. She gained the tools to understand her experiences as an undergraduate at Spelman College. She currently researches how black women express their politics through fashion and consumer practices as a doctoral candidate in Sociology at the University of Southern California. LaToya Council grew up in a single-parent household, observing every day how difficult it was for her mom, who worked multiple jobs to keep the family afloat. Seeing how she was impacted by the demands of employment, unpaid care work, and involvement in my sister and my education drew LaToya to sociology as an undergraduate at Spelman, where she was first introduced to the concept of intersectionality. A PhD student at USC, her dissertation focuses on work and family through the intersectional lens of race, gender, and class. For Carolyn Choi, 1992 Los Angeles unrest was a flashpoint that shaped Carolyn's identity as a person of color and brought her to feminism. She majored in Sociology and Comparative Literature at UCLA, and worked as an intern at Koreatown Immigrant Workers' Alliance, a non-profit civil rights organization. Carolyn has an M.S. in Sociology and Criminology from the London School of Economics and is a doctoral candidate at USC researching how global language education maintains compounding inequalities for working-class South Korean youth, particularly women. Ashley Seil Smith, Illustrator was raised Mormon in California, the last of five daughters, She received her MFA from the School of Visual Arts in New York City. After studying in India during undergrad, Ashley committed to public conversations about feminism and bodies, and has created a menstruation museum and period box subscription company. Her work has been featured in the New York Times, Lenny, and Forbes. She lives and works in New York City.