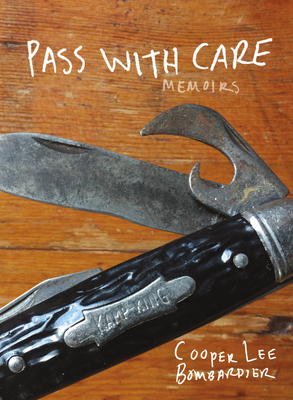 Pass with Care
Memoirs
Paperback

* Individual store prices may vary.
Other Editions of This Title:
Hardcover (7/7/2020)
Description
2021 FIRECRACKER AWARD FINALIST
FEATURED IN PUBLISHERS WEEKLY's STILL HERE, STILL QUEER: LBGTQ BOOKS 2020
FEATURED IN BOOK RIOT'S INDIE PRESS ROUND-UP: 10 GREAT NEW RELEASES FOR SUMMER
Pass with Care is a testament to trans resilience, queer joy, and the power of finding freedom and adventure within a community of your own creation. Transgender writer, artist, and activist Cooper Lee Bombardier shifts effortlessly between lyrical essays, poetry, and narrative nonfiction as his own landscape changes over the course of two decades. From working-class New England to the queer punk scene of early '90s-San Francisco to New Mexico's deserts, Bombardier documents his experiences with compassion and reverence, offering us an expansive view of gender and sexuality, masculinity and tenderness, and the difference between surviving and thriving.
Pass with Care: Memoirs is a necessary and important glimpse into a living trans history as Bombardier explores how much the world has changed and made room for trans people. --BERKELEY FICTION REVIEW
Dottir Press, 9781948340212, 300pp.
Publication Date: June 9, 2020
About the Author
COOPER LEE BOMBARDIER is a writer and visual artist from the South Shore of Boston. HuffPost named him one of "10 Transgender Artists Who Are Changing the Landscape of Contemporary Art." He lives in Halifax, Nova Scotia. Pass with Care: Memoirs is his first book.
1. Pass with Care: Memoirs is written as a blend of personal essays, poetry, spoken word performance, memoir, and journalism. Of these elements, which one resonated the most with you? Which did you think was the most effective?
2. Throughout the book, we travel with Cooper from his hometown outside Boston, to San Francisco, to the desert, and up to the Pacific Northwest. In what ways does his understanding of masculinity evolve with his surroundings?
3. In "Manhood is Boring," Cooper says that he's learned "how goddamn lonely it is to be a man. People don't talk much to men." Were you surprised by this observation? Why or why not?
4. A theme in various essays has Cooper expressing some version of "I don't want to disappear." What does not being seen mean in the context of Pass with Care?
5. What emotions did you experience while reading the book? How did you find yourself responding to the vulnerability with which Cooper discusses his experiences—virtues, flaws, mistakes, and all?
6. Throughout, Cooper narrates moments of being the target of bad treatment and someone who has hurt people, even if not intentionally. How does his complex narration inform your sense of who perpetrators are? How does it inform your understanding of victims?
7. How does Cooper's experience of Tomboy girlhood and later manhood inform or complicate feminism, especially with regard to violence and aggression?
8. When Cooper writes of becoming a pariah among his community in New Mexico, he observes of his "accusers" that "self-righteousness is social currency." What do you think that means? What does Cooper want from his "accusers"?