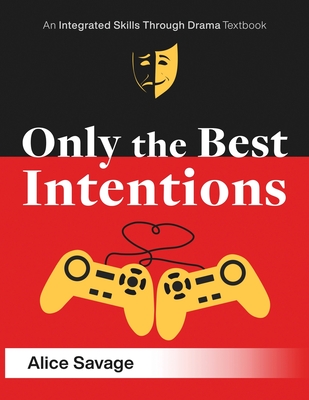 Only the Best Intentions
A Modern Romance Between a Guy, a Girl, and a Game
Paperback

* Individual store prices may vary.
Description
Teach pragmatics by getting dramatic in the classroom
Life's ups and downs do not slow down the busy Curry family whose members are juggling jobs, family, school, sports, and wedding plans. But when 20-year-old Gigi announces that she has broken off her engagement to a computer gamer, everything comes to a stop. Everyone wants to help Gigi and Oscar, but in a modern romance, the rules the game are always changing.
Only the Best Intentions is part of the Integrated Skills Through Drama series that teaches speaking and communication skills through the performance of a one-act play. This flexible curriculum is perfect for a class project, elective course, or drama club.
As students prepare to perform the play, they study intonation and pronunciation skills such as sentence and word stress for clarity, as well as pronunciation and linking. They learn about body language and gesture as ways to communicate. They analyze the script as a work of literature and also mine it for language and rhetorical strategies discuss a personal conflict, complain about someone, give or receive advice and more. And they learn to apply those strategies to their performance and to real-life situations. A variety of performance options are featured, including Reader's Theater.
Background readings on the history of competitive video games, the life of professional video game players, and the benefits and dangers of tech addiction fill out the curriculum. A number of creative writing projects to rewrite the script, adapt the play, or even write a sequel allow you to extend the learning further.
This original drama-based coursebook is sure to engage and motivate your learners.
Alphabet Publishing, 9781948492065, 82pp.
Publication Date: April 26, 2018