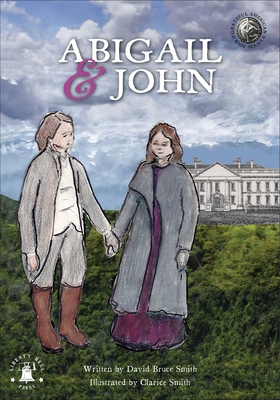 Abigail and John
Hardcover

* Individual store prices may vary.
Description
From David Bruce Smith, author of American Hero: John Marshall, Chief Justice of the United States, and his mother Clarice Smith, world renowned artist, comes this compelling and insightful historical biography of Abigail and John Adams. This unique nonfiction children's book tells the story of one of America's most-treasured couples alongside stunning and original illustrations.

Follow the story of Abigail and John Adams as they forge an equal and loving partnership that will last a lifetime and help shape a young republic. The Adamses were firsthand witnesses to historical events such as the Boston Massacre, the Boston Tea Party, the American Revolution, and the Continental Congresses. They met revolutionary leaders and heroes including Benjamin Franklin, Thomas Jefferson, and America's first president, George Washington along the way. See history through the eyes of Abigail and John Adams as you learn the true story behind their powerful and influential union.

Praise Abigail & John

"Abigail & John invites young readers into the partnership of America's second president John Adams, and his wife and closest advisor, Abigail Smith Adams. David Bruce Smith's fresh take on these well-known historical figures, animated by Clarice Smith's charming illustrations, is sure to give students new insights into the early years of our country's history." ~ Margot Lee Shetterly, Bestselling author of Hidden Figures: The Story of the African-American Women Who Helped Win the Space Race

"Abigail & John delivers a charming portrait of a love story that bloomed in the midst of a revolution, a partnership that gave America two of its first six presidents – John Adams and his son John Quincy Adams. Their joint journey, described in more than a thousand letters they exchanged, is an exciting and timeless tale." ~ David O. Stewart, Bestselling author of The Summer of 1787: The Men Who Invented the Constitution

Abigail & John teaches young readers not only historical facts but introduces them to the strong union and lasting bond between John and Abigail Adams and how it shaped our new nation. An excellent addition to any library. – Trinka Hakes Noble, Bestselling author and illustrator of American history books for young readers

"Abigail & John is a wonderful addition to the literature on our early American history for our young readers. Engagingly written, brilliantly illustrated, it should be "must read" for every school child. I'm sure teachers across America will welcome it as a new, handsome resource for their classrooms." ~ Alex Nyerges Director & CEO Virginia Museum of Fine Arts

"Children and adults alike will cherish the wonderfully illustrated true story of love and enduring strength as Abigail and John Adams—in what was surely a partnership of equals—overcome daunting challenges and together change the world. An exciting start to what promises to be a brilliant series." ~ Ed Lengel, Bestselling author of General George Washington

"This is a beautifully told love story of one of the earliest power couples in American history. The story and the illustrations will appeal to readers of all ages with a nod to graphic novels. Abigail & John is a well needed positive American history primer using excerpts from the couple's correspondence. The nuanced language and setting used to convey the story acknowledges a sophisticated reader of any age. The illustrations by renowned artist Clarice Smith enhance the story with a dynamic quality of movement. The images are beautifully aligned with the story making it visually stunning. This book demonstrates the importance of art in telling the story and both artist and author have set the bar high." ~ Neme Alperstein, Library of Congress Teaching With Primary Sources Mentor

"Abigail & John is a heart-warming yet honest account of America's most celebrated founding couple. With charming illustrations that bring Abigail and John Adams' partnership to life, and beautifully-written text that engages equally well when read aloud as when read silently, this highly-informative history of early America will be treasured by children and parents alike". ~ Louise Mirrer, Ph.D., President & CEO, New-York Historical Society Louise Mirrer, Ph.D. President and CEO New York Historical Society

"Abigail & John invites young readers to meet a couple that was both extraordinary and ahead of their time, yet flawed and prone to individual struggles as we humans all are. The vignettes throughout the book weave together personal and global events, enriched with original art." ~ Erin Carlson Mast CEO & Executive Director, Lincoln Cottage.

"What a lovely, humanizing dual-biography of these revered founding mother and father. Abigail and John are true equals in this narrative, gifting readers a wonderful introduction and inspiring summary of their joint efforts and sacrifices for their new democracy, their affection and support for one another. The illustrations are works-of-art - inviting, evocative --beautiful punctuations to each life stage described in the text and the perfect complement to the book's presentation of the Adamses as the living, breathing, and extraordinarily strong human beings they were." ~ L.M Elliott, bestselling author of Give Me Liberty, Hamilton and Peggy and Under the War Torn Sky

"As the leader of an organization committed to advancing lifelong learning in history, I am delighted that David Bruce Smith and Clarice Smith have created this vitally important, beautiful, and compelling nonfiction resource for young people. They have made history, and women's history, come to life!" ~ Phoebe Stein, Executive Director, Maryland Humanities

"What a gift David Bruce Smith and Clarice Smith's Abigail & John is to our families, kids and parents alike. In their graceful hands, words and illustrations tell such a compelling story about one of our nation's original power couples. With prose that approaches the poetic and lines and color that elevate those words these masterful storytellers leave us grateful for the reawakening of this important part of our history. Two thumbs up from this fan!" ~ Edgar Dobie, Executive Producer and President of Arena Stage

"For David Bruce Smith it is a matter of utmost urgency that all Americans understand the story of our nation and how the lessons of that history can lead us to greater justice and human flourishing. The late Bruce Cole, who was David Bruce Smith's close colleague and collaborator, used to warn the nation against historical amnesia: books like Abigail and John give us good reason to hope that the rising new generation of citizens will be dedicated to building an even brighter future for America. This volume, engagingly illustrated by Clarice Smith, is the first in the Grateful American Book Series, an initiative for which we should all be thankful. ~ Michael B. Poliakoff, Ph.D. is the president of the American Council of Trustees and Alumni

"Exquisite illustrations, coupled with compelling prose, offer readers of Abigail and John a rich and moving journey into the personal and political lives of America's first power couple. Young readers will be captivated by Clarice Smith's artistry and David's Smith graceful writing. How the intimate feelings of affection between Adams's animated their politics is powerful story that is conveyed brilliantly by the Smiths. Abigail and John is a triumph." ~ Peter S. Carmichael, Fluhrer Professor of History, Gettysburg College.

"David Bruce Smith has captured the special relationship between John and Abigail Adams and their part in forming a nation in a way that kids will both understand and enjoy. A great read for young and old alike." ~ Chris Stevenson, Author of Gabriel Cooper and the Drum of Destiny

"Too often we look on the American Founders as icons, statue-like figures whose world-historical greatness raises them above the status of mere mortals. When we do this, we forget their humanity. No one who reads Abigail & John will make that mistake, however. Here we are permitted to see the two Adamses as real people, full and equal partners in one of the great marriages in American history, a marriage that carried through all the most critical events in early United States history, without ever losing any of its intimacy and joy. Truly a book to be grateful for." ~ Dr. Wilfred M. McClay, G.T. and Libby Blankenship Chair in the History of Liberty, University of Oklahoma

"David Bruce Smith and Clarice Smith have collaborated beautifully on a radical, yet long overdue, concept for historical works; that success is often the product of a couple and not solely the male partner's accomplishment. Young readers will be treated to a rich narrative of the union between Abigail and John Adams told through easily readable prose and inviting illustrations". ~ Rabbi Mitchel Malkus, Ed.D. | Head of School Charles E. Smith Jewish Day School
Liberty Bell Press, 9781948496025, 48pp.
Publication Date: November 5, 2019
About the Author
Clarice Smith is a world-renowned artist who been painting professionally for over 40 years. Her work has been exhibited all over the world. Her painting entitled Big Race is on permanent display at the Smithsonian American Art Museum.
or
Not Currently Available for Direct Purchase