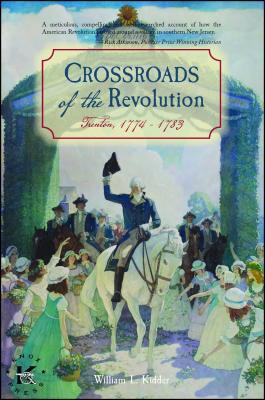 Crossroads of the Revolution (Paperback)
Trenton 1774 - 1783
Knox Press, 9781948496087, 400pp.
Publication Date: March 19, 2019
Other Editions of This Title:
Hardcover (6/6/2017)
* Individual store prices may vary.
Description
History of Trenton New Jersey during the American Revolution

Exhaustively researched and beautifully written, this it he story of revolutionary Trenton, New Jersey both a critical supply post and a crucial junction halfway between loyalist New York, and patriot Philadelphia.

Trenton between 1774 and 1783 is a microcosm of the challenges faced by ordinary Americans during the revolution, struggles intensified by Trenton's geographic location in the state which saw more military activity than others and on a road constantly user to move and supply armies. Life in Trenton connected to just about every aspect of the revolution. The story of the people who lived in Trenton, or who spent time there because of the revolution, helps us better understand the hitherto untold importance of their town beyond the one well known day of battle.

Praise for CROSSROADS OF THE REVOLUTION: 1774 - 1783

A meticulous, compelling, and well-researched account of how the American Revolution pivoted around a village in southern New Jersey.– Rick Atkinson, Pulitzer Prize Winning Historian

William L. Kidder's Crossroads of the Revolution: Trenton, 1774-1783is a gem. In this engaging and well-researched narrative, Kidder shines a light on Trenton, its people, and the events that centered on that town. Most Americans know Trenton as the location of George Washington's post-Christmas victory over a Hessian brigade in 1776. Trenton was, however, much more than that. It was an active and lively town at the center of the American Revolution in New Jersey. Through his lively writing bolstered by assiduous research, Kidder tells the stories of Whigs, Loyalists, slaves, Britons, Hessians, and others who helped make Trenton a crossroads of the American Revolution. Readers will not be disappointed. - Ricardo A. Herrera is Associate Professor of Military History, US Army School of Advanced Military Studies and the author ofFor Liberty and the Republic: The American Citizen as Soldier, 1775-1861.

Known by most Americans for an hour of dramatic combat, Trenton was a small but important industrial city at the crux of so much of the War for Independence. Mr. Kidder's marvelous study not only brings to life Trenton's many unique personalities, but stands as a valuable case study for how a town and its people weathered and adapted through nine grueling years in the eye of the storm we know as the Revolution.Richard Patterson Executive Director, Old Barracks Museum, Trenton, NJ

Most histories of the Revolution remember Trenton, New Jersey, simply as the battle site where George Washington snatched the Patriot cause from the jaws of defeat on December 26, 1776, with his surprise attack on a Hessian brigade. William L. Kidder's Crossroads of the Revolution, presents a vivid, well-research portrait of a community at war, which reveals the daily courage and persistence it took to win independence. Trentonians faced a daunting array of crises and other challenges between 1774 and 1783, and innumerable options with unpredictable outcomes. Not all chose the same course – not all saw their stories end happily – but all were Americans who sought to define liberty in their own terms – much like their descendants who live in equally uncertain times today. Gregory J. W. Urwin, Professor of History, Temple University
About the Author
Larry Kidder was born in California and raised in California, Indiana, New York, and New Jersey. He received his bachelor's and master's degrees from Allegheny College in Meadville, Pennsylvania.

Larry served four years of active duty in the US Navy, serving first with the US Navy Research and Development Unit, Vietnam and then the destroyer USS Brownson (DD868) home ported in Newport, Rhode Island. In the 1980s he was the lead researcher and writer for the creation of the Admiral Arleigh Burke National Destroyermen's Museum aboard the destroyer museum ship USS Joseph P. Kennedy, Jr. (DD850) at Battleship Cove in Fall River, Massachusetts.

Larry is a retired high school history teacher who taught for forty years in both public and private schools. He considers teaching to be both his vocation and avocation. During his 32 years of teaching at The Hun School of Princeton he enjoyed designing courses that gave his students the opportunity to develop the thinking, research, and writing skills that result from "doing history" and not just learning facts for a test.

For more than twenty-five years, Larry has been a volunteer at the Howell Living History Farm, part of the Mercer County (NJ) Park System, in Hopewell Township, New Jersey. For varying lengths of time he has volunteered as an historian, interpreter, webmaster, and draft horse teamster.

Larry is active in historical societies in New Jersey townships of Ewing, Hopewell, and Lawrence all suburban to Tenton and Princeton. He is an avid member of the Association for Living History, Farm, and Agricultural Museums (ALHFAM), the Washington's Crossing Roundtable of the American Revolution, and the New Jersey Living History Advisory Council. He is a member of the Advisory Council for Crossroads of the American Revolution and is working with Crossroads as volunteer coordinator and editor of its Meet Your Revolutionary Neighbors project.