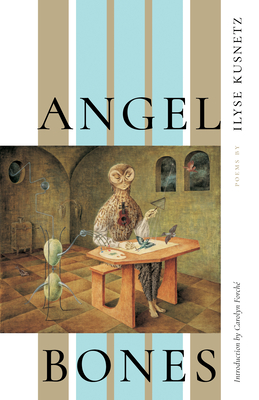 Angel Bones (Paperback)
Alice James Books, 9781948579001, 100pp.
Publication Date: May 14, 2019
* Individual store prices may vary.
Description
Angel Bones has an introspective voice that maintains a bright understanding of the temporal. As we read, we are painfully aware the speaker is dying from cancer and death is imminent. The attempt to not only explain, but understand how to welcome and embrace death is a bittersweet calm. How can one leave willingly when there is so much left behind?
About the Author
Ilyse Kusnetz (1966-2016), poet, essayist, and journalist, is the author of Small Hours, winner of the T.S. Eliot Prize for Poetry, and The Gravity of Falling. She earned a PhD in contemporary feminist and postcolonial British literature form the University of Edinburgh. Her work has appeared in The New Yorker, Orion Magazine, Rattle, Guernica Daily, Islands Magazine, Kyoto Journal, and The Normal School, among others, as well as in anthologies including The Room and the World; The Book of Scented Things; Devouring the Green: Fear of a Transhuman Planet; and Monstrous Verse: Angels, Demons, Vampires, Ghosts, and Fabulous Beasts. She also guest-edited Scottish poetry features for Poetry International and the Atlanta Review. She co-wrote "Vox Humana," the poetic text to a composition which premiered with the Buffalo Symphony Orchestra. She is the lead voice and lyricist for the Interplanetary Acoustic Team, and their debut album 11 11 (Me, Smiling) was released in 2018. A professor at Valencia College, Ilyse lived with her husband, Brian Turner, in Orlando, Florida.