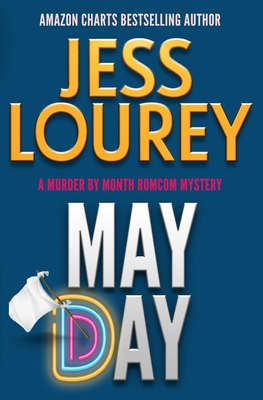 May Day (Paperback)
Toadhouse Books, 9781948584128, 246pp.
Publication Date: June 25, 2018
* Individual store prices may vary.
Description
"Janet Evanovich fans have a new reason to celebrate " ―New York Times bestselling author Gemma Halliday

The not-so-proud owner of a dead-end job and a cheating boyfriend, Minneapolitan Mira James jumps at the chance for a fresh start in rural Battle Lake. She immediately regrets her move. That is, until she crosses paths with Jeff, the ultimate sexy nerd. When their romance heats up, she thinks she has it made.

And she does, right up until Jeff turns up dead between the library's reference stacks.

Anxious to learn more about the man who had briefly stolen her heart, Mira delves into the mysteries of Battle Lake, including an old land deed obscuring ancient Ojibwe secrets, an octogenarian crowd with freaky social lives, and a handful of thirty-something high school buddies who hold bitter, decades-old grudges.

Mira soon discovers that unknown dangers are concealed under the polite exterior of this quirky town, and revenge is a hotdish best served cold.
May Day is a laugh-out-loud, suspenseful, comic caper mystery, perfect for readers who love to escape into the humorous mysteries of Janet Evanovich, Denise Grover Swank, and Stephanie Bond, TV viewers who enjoy 30 Rock and Parks and Recreation, and moviegoers who laughed out loud watching Bridesmaids or Melissa McCarthy's Spy.
May Day is the first in a series of laugh-out-loud-funny, romantic, and a-little-bit-raunchy mysteries featuring Mira James, an urban woman with rural Minnesota roots. The books can be read in order; each novel stands alone. Get all the Mira James mysteries today
May Day
June Bug
Knee High by the Fourth of July
August Moon
September Mourn
October Fest
November Hunt
December Dread
January Thaw
February Fever
March of Crime
April Fools
Or, if you love to sink into a satisfying binge read, check out the bundles

Mira James Mysteries Summer Bundle, Books 1-4 (May, June, July, and August)
Mira James Mysteries Fall Bundle, Books 5-7 (September, October, November)
Mira James Mysteries Winter Bundle, Books 8-10 (December, January, February)
PRAISE FOR MAY DAY
"A hilarious and sexy small-town mystery Loved it " ―Anniereader (Amazon reviewer, five stars)

"Tight plot and funny." ―Betti (Amazon reviewer, five stars)

"Read this now I had a hard time putting this one down...Good thing there are more in the series I haven't yet read. I'm looking forward to devouring them " ―S. Waters (Amazon reviewer, five stars)

"This trade paperback packed a punch...I loved it from the get-go " ―Tulsa World

"What a romp this is I found myself laughing out loud..." ―Crimespree Magazine

"Mira is the strength of the book. She has a unique voice, full of irreverent humor...I couldn't help rooting for her]." ―All about Romance

"Meet this witty heroine in Lourey's engaging new series." ―Mystery Scene Magazine

"May Day starts the action rolling with a clever mystery and some snappy writing . . . These pages are filled with fresh dialogue " ―In the Library

"Mira digs up a closetful of dirty secrets, including sex parties, cross-dressing and blackmail, on her way to exposing the killer. Lourey's debut has a likeable heroine and surfeit of sass." ―Kirkus Reviews