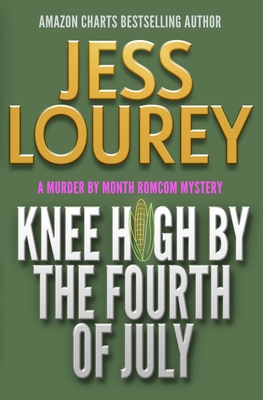 Knee High by the Fourth of July (Paperback)
Toadhouse Books, 9781948584203, 230pp.
Publication Date: July 9, 2018
* Individual store prices may vary.
Description
Finalist for The Lefty Award for best humorous mystery
Chosen as a Killer Book by the Independent Mystery Booksellers Association
What's so wrong with admiring from a distance?
Mira's quirky attraction to Chief Wenonga, a well-muscled fiberglass statue, might be a safer love pursuit than online dating. But when the 23-foot Chief goes missing and a human scalp is discovered at his cement base, Mira's not the only Battle Lake citizen to be crushed.
Things get impossibly worse when her second-biggest-hunk, organic gardening god Johnny Leeson, disappears and the police think she's involved. With her luck with men running out and the cops closing in, Mira has no choice but to roll up her sleeves and start investigating.
But is she trailing a statue-thief, a kidnapper, or a cold-blooded killer?
Knee High by the Fourth of July is perfect for readers who love to escape into the humorous mysteries of Janet Evanovich, Denise Grover Swank, and Stephanie Bond, TV viewers who enjoy 30 Rock and Parks and Recreation, and moviegoers who laughed out loud watching Bridesmaids or Melissa McCarthy's Spy.
Knee High by the Fourth of July is the third in a series of laugh-out-loud-funny, romantic, and a-little-bit-raunchy mysteries featuring Mira James, an urban woman with rural Minnesota roots. The books can be read in any order; each novel stands alone. Get all the Mira James mysteries today
May Day
June Bug
Knee High by the Fourth of July
August Moon
September Mourn
October Fest
November Hunt
December Dread
January Thaw
February Fever
April Fools
Or, if you love to sink into a satisfying binge read, check out the bundles
Mira James Mysteries Summer Bundle, Books 1-4 (May, June, July, and August)
Mira James Mysteries Fall Bundle, Books 5-7 (September, October, November)
Mira James Mysteries Winter Bundle, Books 8-10 (December, January, February)
PRAISE FOR KNEE HIGH BY THE FOURTH OF JULY

"Must read This series is so great..." ―Johnna Neugent (Amazon reviewer, five stars)

"Electric reading...Spellbinding. Didn't want to stop reading to do daily chores but had to. Will begin August book soon. What happens when the year is completed? I don't want the series to stop after 12 stories." ―kay killelea (Amazon reviewer, five stars)

"Mira James is a quirky, likeable, and realistic protagonist / heroine. Her turns of phrase and sense of humor (especially when directed at herself) are laugh-out-loudable. Who knew that life in rural Minnesota could be so intriguing and so funny? Habitual mystery readers must leap into this series with both feet." ―Corinne H. Smith (Amazon reviewer, five stars)

" The] humor transcends gender and makes for a delightful romp."―Fergus Falls Journal

"Lourey's rollicking good cozy planted me in the heat of a Minnesota summer for a laugh-out-loud mystery ride."―bestselling author Leann Sweeney

"Knee High by the Fourth of July kept me hooked from beginning to end. I enjoyed every page "―Sammi Carter, author of the Candy Shop Mysteries