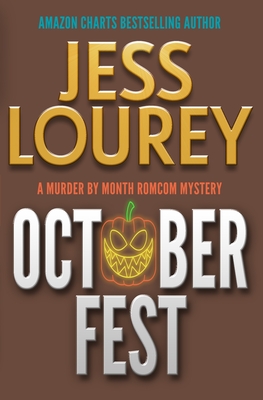 October Fest (Paperback)
Toadhouse Books, 9781948584296, 256pp.
Publication Date: July 16, 2018
Other Editions of This Title:
Paperback (5/8/2011)
* Individual store prices may vary.
Description
"More spunky than sweet; get started on this Lefty-nominated series if you've previously missed it."--Library Journal (starred review)
There's big trouble brewing in Battle Lake.
Beer and polka music reign supreme at October Fest, Battle Lake's premier fall festival. To kick off the celebration, the town hosts a debate between two congressional candidates: straight-laced Arnold Swydecker, and slippery incumbent, Sarah Glokkmann.
As a reporter for the Battle Lake Recall, Mira James is roped into writing up the word war. But the festive mood sours when a well-known Glokkmann-bashing blogger is found dead...and the congresswoman herself meets a gruesome fate.
To keep the heat off her best friend's fianc , Mira wades through the candidates' dirty laundry, their unsavory secrets, and some murderous mudslinging to expose the killer.
October Fest is perfect for readers who love to escape into the humorous mysteries of Sarah Strohmeyer, Janet Evanovich, Denise Grover Swank, Margaret Lashley, Amy Vansant, Carl Hiaasen, Chelsea Field, and Stephanie Bond. Readers who enjoy laughter with edge-of-their seat suspense will love this series

October Fest is the sixth in a series of laugh-out-loud-funny mysteries featuring Mira James, an urban woman with rural Minnesota roots. The books can be read in any order; each novel stands alone. Get all the Mira James mysteries today
May Day
June Bug
Knee High by the Fourth of July
August Moon
September Mourn
October Fest
November Hunt
December Dread
January Thaw
February Fever
April Fools
Or, if you love to sink into a satisfying binge read, check out the bundles
Mira James Mysteries Summer Bundle, Books 1-4 (May, June, July, and August)
Mira James Mysteries Fall Bundle, Books 5-7 (September, October, November)
Mira James Mysteries Winter Bundle, Books 8-10 (December, January, February)
PRAISE FOR OCTOBER FEST
"Lourey has cleverly created an entertaining murder mystery with the most unlikely murder accomplice ever. Her latest is loaded with humor, and many of the descriptions are downright poetic."--Booklist (starred review)
"The story is funny, ribald and brimming with small-town eccentrics."--Kirkus Reviews
"I loved Lourey's quirky, appealing sleuth and her wry yet affectionate look at small town life. I hope Mira's misfortune of stumbling over a dead body every month lasts for many years "--Donna Andrews, New York Times bestselling author of Stork Raving Mad