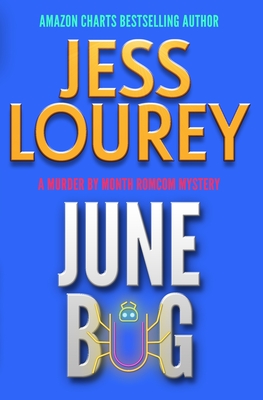 June Bug (Paperback)
Toadhouse Books, 9781948584302, 242pp.
Publication Date: July 9, 2018
* Individual store prices may vary.
Description
More spunky than sweet; get started on this Lefty-nominated series if you've previously missed it."--Library Journal (starred review)

Mira James never imagined life after Minneapolis would be a doublewide trailer outside Battle Lake, Minnesota. Then again, maybe the North Country has more to offer than mosquitoes and broasted chicken. Maybe it has earthy, sexy Johnny Leeson and... jewels?

Local legend claims that a diamond necklace was lost nearly a century ago in Whiskey Lake, near the bank of the present-day Shangri-La resort. Mira, a part-time reporter, goes fishing for the story behind the legend. Her exhilarating treasure hunt uncovers a new mystery and puts her face to face with a menacing foe from her past.

Can she avoid his deadly advances long enough to lock lips with Johnny?
June Bug is the second in a laugh-out-loud-funny romantic mystery series featuring Mira James, an urban woman with rural Minnesota roots. It contains mild swearing and hot and hilarious, PG-13 sexual encounters. Part of an ongoing series, June Bug is perfect for readers who love to escape into the humorous mysteries of Janet Evanovich, Denise Grover Swank, Stephanie Bond, and Chelsea Field.
The publication order of the Mira James mysteries is listed below, but they do not need to be read in order; each novel stands alone. Get all the Mira James mysteries today

May Day
June Bug
Knee High by the Fourth of July
August Moon
September Mourn
October Fest
November Hunt
December Dread
January Thaw
February Fever
March of Crime
April Fools
Or, if you love to sink into a satisfying binge read, check out the bundles

Mira James Mysteries Summer Bundle, Books 1-4 (May, June, July, and August)
Mira James Mysteries Fall Bundle, Books 5-7 (September, October, November)
Mira James Mysteries Winter Bundle, Books 8-10 (December, January, February)
PRAISE FOR JUNE BUG
"Loved this book. Keeps you guessing til the end " ―Diana Martinez (Amazon reviewer, five stars)

"So funny I loved the refreshing humor that was brought to life in the character of Mira. Didn't know what to expect with this book, but very glad that I read it, left me wanting more." ―justen.murray (Amazon reviewer, five stars)

"Enjoyable and entertaining read... Jess Lourey has penned a very well written series and a good murder mystery with a touch of humor. Her characters are well developed and believable. If you are looking for a highly enjoyable read look no further, this one is great and is highly recommended." ―Terry South (Amazon reviewer, five stars)

"Really enjoyed the characters and community of misfits that make you feel like your small town is maybe not strange after all." ―Diana Martinez (Amazon reviewer, five stars)

"So fun Jess Lourey is a great find Her novels are funny and fun, with quirky characters who will charm and delight you I'm already into Nov Hunt, and it will be a cold Dec when I run out of books Write fast, Jess " ―Jennifer A. Cornell (Amazon reviewer, five stars)

"Move over, Stephanie Plum. There's a new bad girl in town, and her name is Mira James." ―New York Times Bestselling Author William Kent Krueger