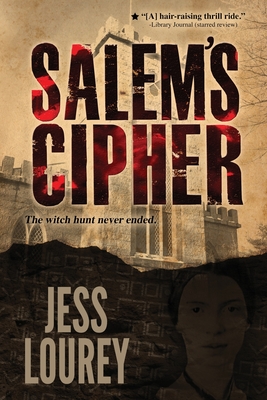 Salem's Cipher
Paperback

* Individual store prices may vary.
Description
From the bestselling author of Unspeakable Things, Bloodline, and Litani comes the story of a troubled codebreaker facing an epic plot that reaches back through centuries of America's secret history.
★ "...A hair-raising thrill ride." ―Library Journal (starred review)
★ "A fast-paced, sometimes brutal thriller reminiscent of Dan Brown's The Da Vinci Code." ―Booklist (starred review)
Salem Wiley is a genius cryptanalyst, courted by the world's top security agencies ever since her quantum computing breakthrough. She's also an agoraphobe shackled to a narrow routine since her father's suicide. When her intelligence work unexpectedly exposes a sinister plot to assassinate the country's first viable female presidential candidate, Salem finds herself both target and detective in a modern day witch hunt.
Drawn into a labyrinth of messages encrypted by Emily Dickinson and codes tucked inside the Beale Cipher a hundred years earlier, Salem begins to uncover the truth: an ancient and ruthless group is hell-bent on ruling the world, and only a select group of women stands in its way.
Salem's Cipher is the first in an ongoing series of heart-pounding thrillers that international bestselling author Lee Child calls "highly recommended "
Salem's Cipher
Mercy's Chase
"The fascinating historical information combined with a storyline ripped from the headlines will hook conspiracy theorists and action addicts alike." ―Kirkus Reviews
Toadhouse Books, 9781948584920, 418pp.
Publication Date: November 21, 2019