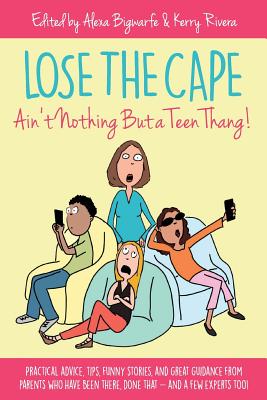 Lose the Cape
Ain't Nothing But a Teen Thang
Paperback

* Individual store prices may vary.
Description
Are you currently parenting a teen or have children who will be there soon?



This book is for parents who are about to embark upon the tween and teen years and are feeling a little bit overwhelmed. While any parent or grandparent could enjoy reading it, it's mostly suited as a book to prepare parents OR as a resource for parents who are already struggling with their teen. Because let's face it - parenting teenagers is a whole new world



This book is part mom humor, part advice from moms who have been there, done that, and part advice from guest experts who hope to arm unsuspecting parents with the tools they need to survive the years of raising a teenager.



In this book we aim to:
- empower parents and teenagers to communicate together
-show parents how to advocate for their children
- provide resources to help make decisions when parenting teens and keep them safe
- provide practical solutions (especially for communication and power struggles)
- create community and make you realize we're all in this together



For those of you who have "grown up" with the Lose the Cape community: We wrote the first book when our children were in elementary school and younger. As our kids have grown, we've grown as parents as well. We wanted to provide a book for other parents who are also transitioning into this point with their oldest child and don't want to go it alone.

(We've got your back } We've included stories and practical advice. We come to you with our experiences and our history in the hopes that you will feel like you are not alone, and certainly not judged for the decisions you make. We do not come from a place of judgment, but in true Lose the Cape spirit, we come in solidarity. We will survive this phase together too

Teen Thang Features over 20 Co-Authors to bring diversity and many points of view. We tackle difficult to talk about topics, like sex, what we allow our kids to do and at what age, puberty, and all of those fun subjects that make us squirm.

So what are you waiting for? Whether you already have a teen or you'll be there soon, the time is NOW.

Grab your copy today
Kat Biggie Press, 9781948604109, 208pp.
Publication Date: June 26, 2018