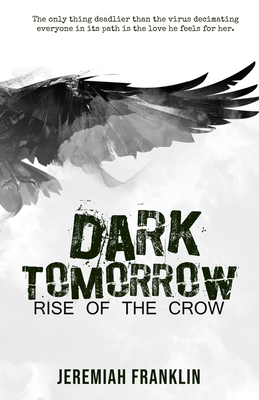 Dark Tomorrow (Paperback)
Rise of the Crow
Month9Books, LLC, 9781948671057, 306pp.
Publication Date: September 18, 2018
* Individual store prices may vary.
Description
When a deadly virus decimates most of Earth's population, 16-year-old Sawyer Bradshaw finds he is both immune and alone in a world that has descended into violent chaos. Armed with only his estranged father's shotgun, and an unrelenting desire to stay alive, Sawyer discovers that he not only has an uncanny knack for cheating death, but also for taking lives. It's not long before he meets his match in a fierce and cunning teenage girl named Sara. By her side, Sawyer emerges as more than just a natural-born killer but as a leader among men. Nevertheless, as quick as the young survivors fall desperately in love, they find themselves caught up in a series of conspiracies and twisted struggles for power. They soon realize that love, betrayal, and death tend to walk hand in hand.
About the Author
Jeremiah Franklin is a former private investigator and an arm-chair survivalist. When he is not creating thrilling post-apocalyptic worlds, or discussing himself in the third person, he enjoys reading, exercising, and spending time outdoors, especially hiking, camping, fishing, shooting, and snowboarding. He lives in Bend, Oregon.
Praise For Dark Tomorrow: Rise of the Crow…
"In an apocalypse, how would you fend for yourself? Sawyer is alone, his dad left a long time ago, and his mom died of the virus. He's become adept at taking care of himself, but in this world it's not easy. Sara and her father, Jacob, have been hiding out at their house since her mother died of the virus, but with their food in short supply, they decide to leave town in search of a better tomorrow. When Sara and Sawyer's lives come together, it's a usual first encounter in a post-apocalyptic world, met with distrust, but Sawyer cannot help but feel something for Sara and wants to help her father, who has become very ill. Sawyer joins Sara and her father in their adopted compound, and as they live together, they begin to fall for each other. Jacob insists on finding other people to expand their world, but when new people show up, will their little paradise become compromised? This is a well-paced novel set in contemporary America. Some violence and light language punctuate the story, as to be expected in post-apocalyptic survivalist situations. VERDICT Purchase where speculative novels and survivalist lit are popular." —School Library Journal