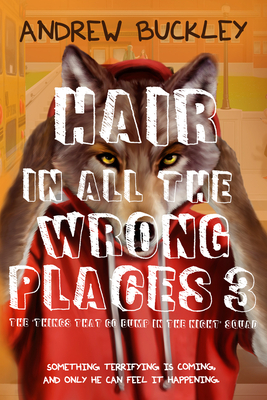 Hair in All the Wrong Places 3
Things That Go Bump in the Night (The Perils of Growing Up Werewolf)
Paperback

* Individual store prices may vary.
Other Editions of This Title:
Paperback (6/7/2016)
Paperback (10/24/2017)
Description
A nameless shadow is looming over Elkwood, something dark and sinister is creeping into the town, but only teenage werewolf, Colin Strauss, can feel it happening.

When a routine Night Watch mission ends with Colin rescuing a mysterious girl from a pair of monster hunters, it causes shockwaves that threaten to rock Elkwood to its very foundations. And not only throughout the town; for the first time in Colin's life, he has girl problems!

In the past year, Colin has faced an evil biology teacher, defeated a power-hungry wizard, and united a group of unlikely creatures and freaks to defend their home. Can he uncover the growing evil, avoid an ancient order of monster hunters, and not screw things up with his girlfriend?

Growing hair in all the wrong places is fast becoming the least of Colin's problems . . .

Month9Books, LLC, 9781948671200, 237pp.
Publication Date: October 30, 2018
About the Author
Andrew Buckley is an editor for a small press, a professional copy and content writer, and a cohost for a geek movie podcast. He is the author of The Perils of Growing Up Werewolf series. He lives in Okanagan Valley, British Columbia.