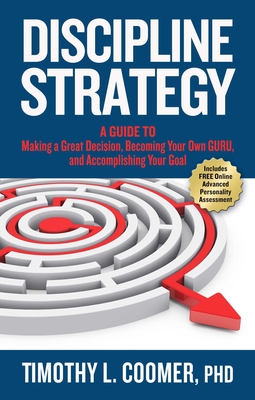 Discipline Strategy
A Guide to Making a Great Decision, Becoming Your Own Guru, and Accomplishing Your Goal
Hardcover

* Individual store prices may vary.
Description
Change begins with a decision. To move beyond that decision to positive life change requires discipline. In Discipline Strategy, Dr. Coomer translates the word DISCIPLINE into an acronym for a ten-step life change process.

Don't be uncertain or confused for another day. You can become the hero of your own life's story. The DISCIPLINE STRATEGY® approach works for both business and personal challenges and will guide you from the point of decision to accomplishment.

Dr. Coomer is a serial entrepreneur and personality researcher with a deep understanding of how personality impacts performance. To enhance your ability to implement the DISCIPLINE STRATEGY® process, this book includes a free comprehensive personality assessment.

Many of today's self-help books offer a prescription for change but fail to provide an answer to your specific challenges. A better approach is to learn a process that supports genuine change and allows you to become your own customized expert. In this way, you'll learn to:

• [DECIDE] Make sound decisions.

• [INVESTIGATE] Investigate relevant topics.

• [SORT] Sort through information with a critical eye.

• [CONCEIVE] Conceive a detailed plan.

• [IMPLEMENT] Implement the plan.

• [PERSEVERE] Move forward with passion and perseverance.

• [LOOP] Use a feedback loop to evaluate your progress and make adjustments where needed.

• [INTENSIFY] Intensify your efforts where appropriate.

• [NOTICE] Take notice of what you have accomplished.

• [ENJOY] Enjoy the fruits of your labors using the positive psychology concept of PERMA.

This is your roadmap for change, the ultimate guide to making a great decision, becoming your own guru, and accomplishing your goal.


Forefront Books, 9781948677271, 224pp.
Publication Date: January 7, 2020
About the Author
Dr. Timothy L. Coomer is a seasoned serial entrepreneur with interest and experience in the creation of analytical based business start-ups. He enjoys working with non-analytical businesses as a business coach, mentor, and investor.

Dr. Coomer completed his PhD at the Spears School of Business at Oklahoma State University. His areas of interest are entrepreneurship, predictive modeling, risk financing, and the relationship between personality and sales performance. Coomer is the creator of the popular ModMaster Suite of software products, which was developed while he was founder/CEO of Specific Software Solutions, LLC. After 20 years leading this business, it was sold in 2010.

Dr. Coomer cofounded SIGMA Actuarial Consulting in 1995 and has served as CEO since its start-up. Since the sale of Specific Software Solutions, Dr. Coomer has been helping SIGMA expand through the utilization of effective business and marketing strategies. He developed the proprietary DISCIPLINE STRATEGY for which his first book is named.

Coomer is a private pilot, travels extensively, and enjoys combining his love of aviation and flying with the need to reach out to meet clients face-to-face.
or
Not Currently Available for Direct Purchase