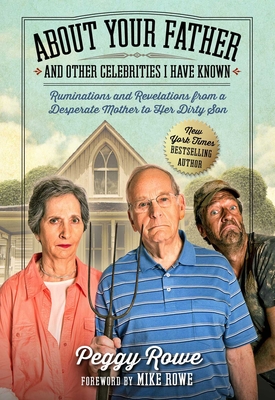 About Your Father and Other Celebrities I Have Known
Ruminations and Revelations from a Desperate Mother to Her Dirty Son
Hardcover

* Individual store prices may vary.
Other Editions of This Title:
Library Binding, Large Print (11/25/2020)
Description
Peggy Rowe is at it again—this time giving a hilarious inside look at growing up Rowe, both before and after Mike's rise to fame.

Since the day they said, "I do," Peggy's previous "doting" lifestyle met with her husband John's minimalist ways and became the backdrop for years of adventure and a quirky sense of humor because of their differences. From thoughts of wearing headlamps in the house to save energy, to squeezing out the last drop of toothpaste with a workbench vise, Peggy learned to pick her battles and celebrate the hilarity in each situation.

Once their boys were born, woodstove mishaps and garbage dumping tales were the seed for Mike's obsession with doing dirty jobs and the comical presence he is known for today.

As Mike rose to fame, Peggy was his biggest fan—who gave motherly advice and constructive criticism, of course. She baked cookies for Mike to take to Joan Rivers for a Christmas party hostess gift, and even wrote fan letters under faux names and mailed them from different cities to Mike's producer.

By the time Mike hits it big, Peggy and John retire to face more adventures, with a lightning strike in their condo, an elderly friend who ate marijuana leaves, and entering into celebrity status by making Viva paper towel and Lee jeans commercials, plus so much more.

Peggy's stories relive the details that intrigue and entertain old and new fans alike. So if you want a bigger, even funnier take on the Rowe family, About Your Father and Other Celebrities I Have Known delivers.
Forefront Books, 9781948677448, 240pp.
Publication Date: April 14, 2020
About the Author
Peggy Rowe used to have a hobby; she wrote articles and stories that appeared in newspapers and magazines. Thanks to her husband, John, three sons, and two parents who lived across the lawn for 40 years, there was no scarcity of material. After writing her first book, About My Mother, at the age of 80—which became a NYT bestseller—and her second book, About Your Father, at the age of 82, Peggy's hobby has become a full-time job. "It took me 80 years to find my voice," she says, "And now I can't shut it up!" Peggy Rowe's daily Facebook blog, "About My Mother," has over 100,000 followers. She and her husband of sixty years are former schoolteachers and live in Baltimore, Maryland.

Mike Rowe is best known as the executive producer and host of the hit shows Dirty Jobs, Somebody's Gotta Do It, and Returning the Favor, for which he won an Emmy. He also hosts the podcast The Way I Heard It, a collection of short stories for the "curious mind with a short attention span." As CEO of the mikeroweWORKS Foundation, Mike has led the effort to close America's widening skills gap and facilitated the granting of millions of dollars in work ethic scholarships.