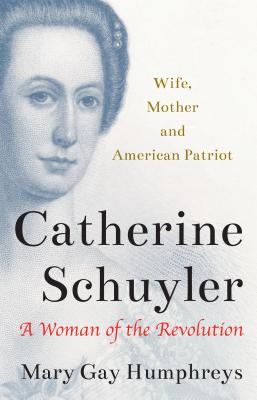 Catherine Schuyler
A Woman of the Revolution
Paperback

* Individual store prices may vary.
Other Editions of This Title:
Paperback (2/3/2016)
Paperback (6/4/2009)
Hardcover (6/4/2009)
Paperback (8/14/2008)
Paperback, Large Print (8/21/2008)
Hardcover, Large Print (8/21/2008)
Hardcover (8/21/2008)
Hardcover (5/17/2016)
Hardcover (9/2/2015)
Hardcover (5/17/2016)
Hardcover (5/25/2016)
Paperback (5/17/2018)
Paperback (11/28/2018)
Description
"I am no stranger to the qualities which distinguish your character."
- Alexander Hamilton in a letter to Catherine Schuyler

Catherine Schuyler was one of the most important figures in early American history. Married to Philip Schuyler, known as the General of the North during the revolution, she played a critical role in the days of the war for America's liberty. Catherine Schuyler: A Woman of the Revolution details the life and times of this larger-than-life woman.

Born in 1734, Catherine Schuyler grew up to become the grande dame of Albany. As her husband went off to fight for freedom--and their lives--it fell to Catherine to manage the household, raise the children, and protect them from the attacks of both the Indians and British. Whether it was providing food for the billeted soldiers, defending against an Indian attack, even setting fire to her family's own fields as the British approached, she faced life with determination and courage.

Catherine Schuyler was at the epicenter of the social life of Albany, entertaining such distinguished guests such as George Washington, Ben Franklin, and British General Burgoyne. She was the mother of 15 children, eight of whom survived including Elizabeth Schuyler, who married Alexander Hamilton. In Catherine Schuyler: A Woman of the Revolution, author Mary Humphreys, a journalist and women's rights activist, provides a compelling and well-rounded look at Catherine's rich and fascinating life.

Catherine Schuyler was a woman of strength and elegance who served her country and her family in equal measure.

Hva Press, 9781948697101, 262pp.
Publication Date: February 18, 2020
About the Author
Mary Gay Humphreys was born in Ridley, Ohio. She served as a nurse in the Civil War and the Philippines. After the war she was an author, book reviewer, magazine and newspaper contributor. She also wrote a number of popular novels under the pen name Henry Somerville. Humphreys was also active in supporting Women's Rights. She died in 1915.