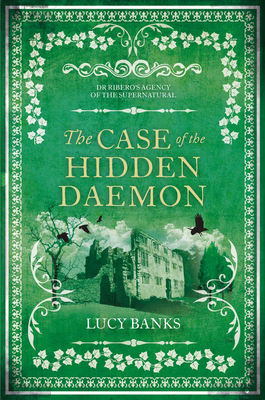 The Case of the Hidden Daemon (Dr Ribero's Agency of the Supernatural #3) (Paperback)
Amberjack Publishing, 9781948705059, 352pp.
Publication Date: October 23, 2018
Other Editions of This Title:
MP3 CD (12/17/2019)
Compact Disc (12/17/2019)
* Individual store prices may vary.
Description
Still recovering from the case of a serial killer spirit in Lyme-Regis, Dr Ribero's agency is soon confronted with an even greater threat: a reckless cult conspiring with an ancient and powerful Daemon to open a permanent spirit door so that spirits have unfettered access to the human realm. Having just witnessed the lethal consequences uncontrolled spirits can have on the unsuspecting, the agency joins forces with several others to prevent the cult from unleashing chaos and ending the world's fragile protection from dangerous spirits.
About the Author
Lucy Banks grew up in provincial Hertfordshire, before fleeing to the wilds of Devon, where she now lives with her husband and two boys. As a child, she spent a disproportionate amount of time lurking in libraries, and prowling car-boot sales to feed both her hunger for books and her book collection. It's fair to say that she's bypassed being a bookworm, and become a book-python instead. Today, most of the available space in her house is stuffed to the brim with literature, which is just the way she likes it.
Regular forays into fictional realms at a young age created a desire for more, and she soon began to create alternate realities through writing. After teaching English Literature to teens, she set up her own copywriting company and turned her love for the written word into a full-time career. However, the desire to create never went away, so Lucy turned her insomnia into a useful tool—penning her novels in the wee small hours of the night and the stolen moments of the day.