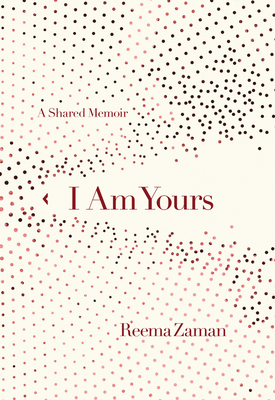 I Am Yours (Hardcover)
A Shared Memoir
Amberjack Publishing, 9781948705110, 300pp.
Publication Date: February 5, 2019
* Individual store prices may vary.
Description
It is time.
It is time to free our voice.
To speak is a revolution.
For too long, through the most intimate acts of erasure, women have been silenced. Now, women everywhere are breaking through the limits placed on us by family, society, and tradition. To find our voices. To make space for ourselves in this world. Now is the moment to reclaim what was once lost, stolen, forsaken, or abandoned. I Am Yours is about my fight to protect and free my voice from those who have sought to silence me, for the sake of creating a world where all voices are welcome and respected. Because the voice, without intimacy, will atrophy. We're in this together. You are mine, and I am yours. 
About the Author
Reema Zaman is an award-winning author, speaker, and teacher. Her work has been featured in The Guardian, Narratively, The Rumpus, B*tch, Magazine, VIDA, SHAPE, The Huffington Post, and elsewhere. Zaman was selected as the 2018 Oregon Literary Arts' Writer of Color Fellow and serves as serve as Ambassador and Mentor for Girls Inc., Pacific Northwest. In Spring 2019, Zaman and NY Times bestselling writer Lidia Yuknavitch will kick off the first of their annual panel and reading series, "Women, Power, and Writing: Authoring a New Anthem," co-hosted by Literary Arts and Corporeal Writing Center. Born in Bangladesh, raised in Thailand, and presently residing in Portland, Oregon, she holds a double B.A. in gender studies and theater from Skidmore College.
Praise For I Am Yours: A Shared Memoir…
"Powerfully vulnerable and eloquent, Zaman's voice is a fire—full-throated, wide-open, and roaring." —Letitia Montgomery-Rodgers, Foreword Reviews

"Reema Zaman's keenly-felt, lyrically-written and artfully structured memoir, I Am Yours, joins a rare group of books that can lay claim to being 'transformative'... You feel empowered and awed by her strength; in full respect, all you want to do is wish her the limelight. Zaman has arrived." —Chaya Bhuvaneswar, author of White Dancing Elephants
"Reema Zaman's writing is a revelation and a revolution for women everywhere."  —Megan Kovacs, Director of Community Relations, Girls Inc. of the Pacific Northwest
"A staggering work filled with presence, I Am Yours provides a profound explanation of love, delivered as an act of witness. Powerfully vulnerable and eloquent, Zaman's voice is a fire—full-throated, wide-open, and roaring." —Foreword Reviews, Starred Review
 
"Reema Zaman's memoir portrays a beautiful, magical journey that is an inspiration to women everywhere. I Am Yours is a rare find that captures the true essence of being a female with flaws and imperfections... She is a born leader with much wisdom that is brilliantly enraptured and depicted in her self-inspired book of healing." —Trisha Sakhuja-Walia, CEO of BrownGirlMagazine.com

"The strength of the narrative portrays how a person who has contended with enormous tragedy can summon the resolve to confront and rise above it, and courageously share it with others... Memoir fans will appreciate Zaman's journey." —Library Journal

"In this candid book, Zaman not only celebrates her quest to define herself and her voice, but also to find health, self-love, and wholeness. An eloquently searching and intelligent memoir." —Kirkus Reviews
"Tender, fierce, compassionate, and wise, Reema Zaman's I Am Yours is a moving story about how one woman found her voice—and her power. I was enthralled by this beautiful book from the first page to the last." —Cheryl Strayed, New York Times bestselling author of Wild, Tiny Beautiful Things, and Torch
"My heart just burst into a thousand songs after reading I Am Yours by Reema Zaman. From the first word to the last, this story is phenomenal triumph of one woman's body and voice rising up and through a culture that would quiet her... A stunning debut." —Lidia Yuknavitch, bestselling author of The Misfit's Manifesto, The Chronology of Water, and The Book of Joan
"A healing book that lifts you up. One woman's testimony and heart on the page. Reema's grace is staggering and true. What a gift." —Terese Mailhot, New York Times bestselling author of Heart Berries
 
"Astonishing—as light as a healing wand, and as deep as honesty can go. Reema Zaman has the voice and wisdom of a leader. Do yourself a favor and read I Am Yours. —Rene Denfeld, author of New York Times bestselling The Child Finder

"I Am Yours is one of those rare books that begs to be devoured and savored in equal measure. It's more than a memoir; it's a spiritual guide." —Gemma Hartley, author of FED UP: Emotional Labor, Women, and the Way Forward