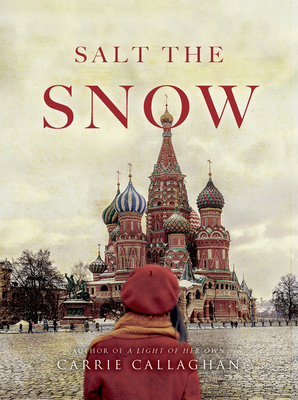 Salt the Snow
Hardcover

* Individual store prices may vary.
Description
From Carrie Callaghan, author of the critically acclaimed A Light of Her Own, comes a story of the trailblazing and liberated Milly Bennett, based on the life of one of the first female war correspondents whose work has been all but lost to history. American journalist Milly Bennett has covered murders in San Francisco, fires in Hawaii, and a civil war in China, but 1930s Moscow presents her greatest challenge yet. When her young Russian husband is suddenly arrested by the secret police, Milly tries to get him released. But his arrest reveals both painful secrets about her marriage and hard truths about the Soviet state she has been working to serve. Disillusioned, and pulled toward the front lines of a captivating new conflict, Milly must find a way to do the right thing for her husband, her conscience, and her heart.
Praise For Salt the Snow…
"The vivid prose of Salt the Snow sets the reader in the middle of socioeconomic upheavals and political unrest with the best possible tour guide, wisecracking American journalist Milly Bennett. Callaghan excels at bringing little-known real-life women out of the darkness of historical obscurity and into the light of recognition. From the first scene, the reader is plunged into a world of suspense and intrigue, led by an unforgettable protagonist. Milly is not so much a character as a fully realized, complex human being: her brilliance and self-sufficiency are admirable, and her loneliness and feelings of unworthiness are heartbreaking. A fascinating novel!" —Clarissa Harwood, author of Impossible Saints and Bear No Malice

"A vivid, well-researched story of a complex and ahead-of-her-time woman, an American journalist, who finds herself—head and heart—while living and working in an equally complex Russia." —Jenni L. Walsh, author of Becoming Bonnie

"Salt the Snow is a vivid journey through the kaleidoscope of 1930s Europe with an irrepressible and all too human guide in Milly Bennett. Don't miss this book and its unforgettable heroine!" —Linnea Hartsuyker, author of The Half-Drowned King and The Golden Wolf

"Honest, vivid, and bold in the face of historical truths, Salt the Snow is a captivating story of a woman whose vulnerability and hopeful idealism resonate even today."  —Jennifer Klepper, bestselling author of Unbroken Threads

Reviews for the author's previous work, A Light of Her Own:

"A Light of Her Own, as a portrait of two brave and ambitious Dutch women painters, and a glimpse into 17th century life in Holland, is recommended to all fans of historical fiction." — New York Journal of Books

"Callaghan skillfully balances both the intricacies of the 17th-century Dutch art world and the religious persecution of the time, making this a dextrously woven and engrossing historical novel." — Publisher's Weekly

"Fans of Tracy Chevalier's Girl with a Pearl Earring (2000) will enjoy this darker, grittier peek into the history of Dutch art and the struggles of women within that world." — Booklist

"Sensory details evoke the light, the feel, and the smell of the setting... a riveting fictionalized account of Judith Leyster." — Foreword Reviews

"Though most of Leyster's life beyond her painting has been lost to history, Carrie Callaghan, in her debut novel, A Light of Her Own, has brilliantly re-imagined this woman who dared to believe herself the equal of her male Artists' Guild co-members." —Washington Independent Review of Books

"Judith Leyster is a fascinating, under-appreciated figure in the history of art, and Carrie Callaghan brings her to life in rich, illuminating, engrossing detail." — David Ebershoff, author of The Danish Girl and The 19th Wife

"An inherently interesting and impressively crafted novel that is certain to be an immediate and enduringly popular addition to community and academic library Contemporary Literary Fiction collections." —Midwest Book Review
Amberjack Publishing, 9781948705646, 304pp.
Publication Date: February 4, 2020
About the Author
Carrie Callaghan is a writer living in Maryland with her spouse, two young children, and two ridiculous cats. Her short fiction has appeared in Weave Magazine, The MacGuffin, Silk Road, Floodwall, and elsewhere. Carrie is also an editor and contributor with the Washington Independent Review of Books. She has a Master's of Arts in International Affairs from the Johns Hopkins School of Advanced International Studies, and a bachelor's degree from the University of North Carolina at Chapel Hill.
or
Not Currently Available for Direct Purchase