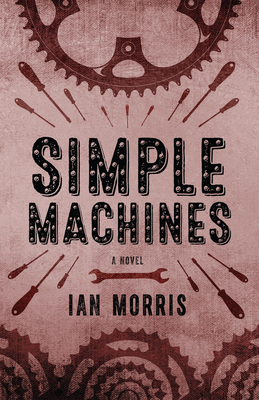 Simple Machines
Paperback

* Individual store prices may vary.
Description
Living in an apartment above the bike shop owned by his embittered father, Tomas Zimmermann keeps company with Grey and Callie, his best friends since childhood. At summer's end, Tom leaves for Madison where he falls in with an unusual and ultimately destructive crowd. As the book approaches a climax, Grey and Callie reappear with trouble of their own, and Tom is forced to choose between old loyalties and a new sense of belonging.`
Praise For Simple Machines…
"What a wondrous, immersive experience this novel by Ian Morris! Lyrical and yet consuming with trouble, danger, and fire. And funny, even experimental, farcical, picaresque—how does he do it all?! You will wonder and worry about Tom, Callie, and Grey for many snowy seasons to come."  —Steve Yates, author, The Legend of the Albino Farm
"Authentic, touching, with the rueful tone of someone who has spent miles in the rain riding over cobblestones."  —John Allis, U.S. National Road Champion and three-time Olympian
"Come listen to the story of Tomas Zimmermann as he navigates the waters between a silent father and the friends and women he should not trust, but somehow does. Hear how Tomas falls and gets back up again."  —Charles Rafferty, author, The Smoke of Horses
"Bicycles are simple yet beautiful machines, and so is Ian Morris's latest novel, Simple Machines, which rolls on the timeless moving wheels of sunrises and sunsets; of the wilds of Lake Superior and Wisconsin country roadways; of those who stayed behind and those who break-away; of the mythic struggle between Paul Bunyan and the Big Swede, and of the equally mythic struggle between a father and son coming to terms with each other and with the grief of a mother's bewildering abandonment. Written in a graceful prose style touched at times with the lyricism of F. Scott Fitzgerald, this novel has all the ingredients of a great read, and of a classic in the making."  —Joseph G. Peterson, author, Gunmetal Blue
"The solitariness of biking serves as the metaphor of Zim's experience, both at home and at college. He is a young man with no more than pedal-power for his getaway." —Julian Anderson, Fiction Writers Review
"Morris' characters are quirky and often infuriating, but never forgettable." —Lindsay Harmon, Booklist
"This title has been recommended for young adult readers: YA/General Interest: Morris' coming-of-college-age novel, with its roots in high school and examination of teen bonds that hold even after leaving home will resonant with YAs." —Donna Seaman, Booklist
"Simple Machines is a novel motivated by movement. The characters travel on water and trek across land, they immigrate and move through time. They are invested in place like Steinbeck's characters and are irreverent like Kerouac's. Above all, the book focuses on one young man's odyssey: coming of age." —S. Ferdowsi, New City
Gibson House Press, 9781948721004, 288pp.
Publication Date: October 15, 2018
About the Author
Ian Morris is the author of the novel When Bad Things Happen to Rich People and co-editor of The Little Magazinein Contemporary America. He lives in Chicago, Illinois.