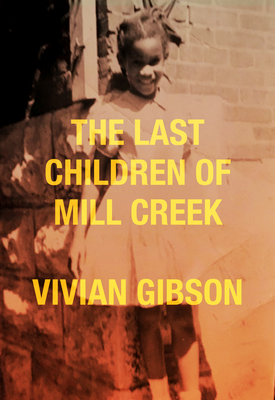 The Last Children of Mill Creek
Paperback

* Individual store prices may vary.
Description
Vivian Gibson grew up in Mill Creek Valley, a segregated working-class neighborhood of St. Louis that was razed in 1959 to build a highway, an act of racism disguised under urban renewal as "progress." The three rooms of her childhood home were heated by a wood-burning stove; her family had no hot water or furnace, but what Gibson lacked in material comforts she made up for in imagination. A moving memoir of family life at a time very different from the present, The Last Children of Mill Creek chronicles the everyday lived experiences of Gibson's large family -- her seven siblings, her crafty, college-educated mother, and her hard-working father -- and the friends, shop owners, church ladies, teachers, and others who made Mill Creek into a warm, tight-knit African-American community. In Gibson's words, "This memoir is about survival, as told from the viewpoint of a watchful young girl -- a collection of decidedly universal stories that chronicle the extraordinary lives of ordinary people.
Belt Publishing, 9781948742641, 150pp.
Publication Date: April 20, 2020
About the Author
Vivian Gibson was raised on Bernard Street in Mill Creek Valley, and has lived in New York City and Liberia. She started writing short stories about her childhood memories after retiring at age 66. Her work has been produced as part of 50in50: Writing Women into Existence, at the Billie Holliday Theater in Brooklyn, and published in The St. Louis Anthology (Belt Publishing, 2019). She lives in St. Louis, Missouri.