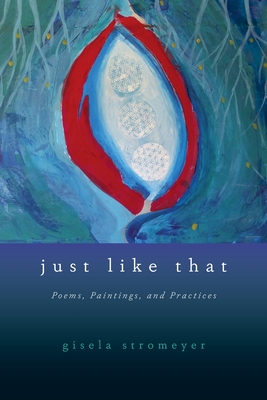 Just Like That (Paperback)
Poems, Paintings, and Practices
Epigraph Publishing, 9781948796606, 196pp.
Publication Date: April 5, 2019
* Individual store prices may vary.
Description
Shelf Unbound 2019 Best Indie Book Award Winner--Notable Indie
"Just Like That is a gift to the soul, a key to the fickle path of light as it makes its way through the cracks of human journey towards love. The book is honest to a fault, so it wakes you up like a fresh brewed cup of coffee, shakes you, like an earth tremor, cracks you open, and rebuilds the pieces with love glue, compassion composite, it makes love to you like the most delicious lover. Most importantly it shines bright light on the dark crevasse of our being. These words are the ginger and mint in your tea, they are fresh, tasty, and quench your thirst; to understanding what makes our human journey so profound.
"Gisela Stromeyer the author; is a person who lives by her truth, a person that exemplifies what we all yearn for, to be ourselves; to be who we truly are, face the mirror and love the reflection in it.
"This poetry book is a treasure, a must on any journey. Take it to wherever you go, open it whenever you get lost. If I had the choice of one book only, this is the one I would take." --Dror Ashuah, author of the "Conversation with Angels" series
"This work by Gisela Stromeyer confers a unique and generous vitality...the poetry, practices, and paintings emerging like wildflowers blossoming directly from her lived experience...a collection of spontaneous uprisings that invite the reader to stand in appreciation of the awakenings awaiting recognition in our own lives." --Joseph Jastrab, spiritual counselor, author of Sacred Manhood Sacred Earth, editor of Turning Point journal
"Gisela's words are medicine. Medicine that--like all true medicine--has been gathered, crafted, and matured in the alchemy of her lived experiences and deep exploration of Soul and Spirit." --Annette Knopp, meditation teacher, counselor, and shamanic practitioner
"With her new book Just Like That, Gisela Stromeyer has given us a lovely treasure. In Gisela'a poems, paintings, and practices, we encounter a true renaissance woman at work. Her poems are lively invitations, warmly welcoming us to ponder the questions that matter in life. Her paintings add beauty and gravitas to her words, becoming portals for us to enter deeper awareness. And in Gisela's practices we witness the generosity of her spirit as she presents her wisdom and healing guidance. All this is offered with a light touch, like a luminous butterfly landing on your being, just like that." --Gail Straub, author, activist, and co-founder of Empowerment Institute