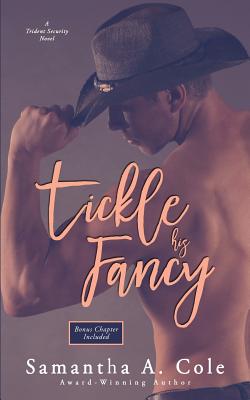 Tickle His Fancy (Paperback)
Trident Security Book 6
Suspenseful Seduction Publishing, 9781948822091, 294pp.
Publication Date: August 17, 2016
* Individual store prices may vary.
Description
All around him, Brody "Egghead" Evans' Trident Security teammates have fallen in love and gotten their happily ever after. Ironically, they had always thought the charismatic Dominant would be the first one to fall-not the last. While helping his boss's fianc e find a new bakery for their wedding cake, he finds himself drooling-not over the delicious confections, but the sweet baker who'd created them. The lone survivor, Francine "Fancy" Maguire's world was destroyed when her husband and unborn baby perished in a horrific car accident. Three years later, she is finally shedding the dark shroud she was existing under and starting to live once more. When a handsome customer takes an interest in her, he sparks something deep within her that she never expected to feel again. But will she dare to give love another try? With a killer on the loose and an unknown vandal targeting Fancy's business, Brody finds plenty of reasons to keep her close. Can he break through the steel barrier she has wrapped around her heart? Or will he lose her before he can convince her to take a second chance on love?
About the Author
A proud member of Romance Writers of America (RWA), Samantha A. Cole is a retired policewoman and former paramedic who is thrilled to add award-winning author to her list of exciting careers. She has lived her entire life in the suburbs of New York City and is looking forward to becoming a snow-bird between New York and Florida someday. Her two fur-babies, Jinx and Bella, keep her company and remind their mom to take a break from writing every once in a while to go for a walk, which is the best way to deal with a stubborn case of writer's block. An avid reader since childhood, Samantha was often found with a book in hand and sometimes one in each. After being gifted with a stack of romance novels from her grandmother, her love affair with the genre began in her teens. Many years later, she discovered her love for writing stories was just as strong. Taking her life experiences and training, she strives to find the perfect mix of suspense and romance for her readers to enjoy. Her standalone novel, The Friar, won the silver medal in the 2017 Readers' Favorite Awards in the Contemporary Romance genre out of more than 1000 entries. While the original planned stories for the Trident Security series have been completed, they have brought many opportunities for Samantha to spread her wings and bring her readers more characters and stories to love. Look for her new Trident Security Omega Team series, Doms of The Covenant Novella series, Blackhawk Security series, and more from the Malone Brothers series, in addition to several standalone projects.