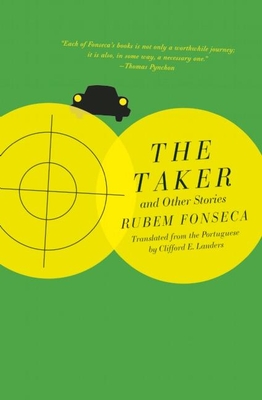 The Taker and Other Stories
Paperback

* Individual store prices may vary.
Other Editions of This Title:
Hardcover (11/15/2008)
Description
Each of Fonseca's books is not only a worthwhile journey; it is also, in some way, a necessary one.--Thomas Pynchon
Most widely admired for his short fiction, The Taker and Other Stories is Fonseca's first collection to appear in English translation, and it ranges across his oeuvre, exploring the sights and sounds of the modern landscape of Rio de Janeiro. Rubem Fonseca's Rio is a city at war, a city whose vast disparities--in wealth, social standing, and prestige--are untenable. In the stories of The Taker, rich and poor live in an uneasy equilibrium, where only overwhelming force can maintain order, and violence and deception are essential tools of survival.
Whether recounting the story of a businessman who runs over pedestrians to let off steam, a serial killer being pushed to ever greater crimes by his bourgeois lover, the desperate poor rushing to butcher a cow that has been killed in a traffic accident, or a man seeking out confirmation for a past which his friends deny, Fonseca repeatedly reaffirms his status as one of the purest storytellers on the contemporary Brazilian literary scene.
Rubem Fonseca
is considered one of Brazil's most influential writers, and was awarded the Pr mio Cam es--considered the Nobel Prize of Portuguese language literature--for his body of work in 2003. That same year he was awarded the Juan Rulfo Prize.
Clifford E. Landers has translated many of the great writers of Brazil, including Jorge Amado, Jo o Ubaldo Ribeiro, Patricia Melo, Osman Lins, and Moacyr Scliar among others. He received the Mario Ferreira Award in 1999.
Open Letter, 9781948830706, 166pp.
Publication Date: August 2, 2022