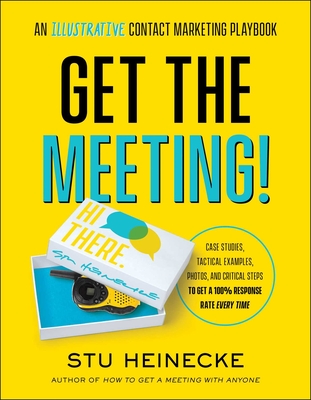 Get the Meeting! (Paperback)
An Illustrative Contact Marketing Playbook
Benbella Books, 9781948836449, 250pp.
Publication Date: October 15, 2019
* Individual store prices may vary.
Description
What's the one critical networking skill that can make or break your career?
Your ability to Get the Meeting
Hall-of-Fame-nominated marketer and Wall Street Journal cartoonist Stu Heinecke's innovative concept of Contact Marketing--using personalized campaigns to create alliances with executive assistants and reach the elusive VIPs who can make or break a sale, with response rates as high as 100 percent--has helped professionals around the world open more doors in their careers and reach new heights of success.
Now, in Get the Meeting , Heinecke, author of the groundbreaking How to Get a Meeting with Anyone, shares the latest tips, tools, and tactics to help readers break through to their top accounts in the most effective ways possible. With more than 60 fully illustrated case studies and tactical examples, this new book takes you inside successful contact marketing campaigns--from strategy, through execution, to results--and forecasts the contact marketing campaigns of the future based on cutting-edge technology. Full-color photography and in-depth interviews with the campaigns' designers provide unparalleled insight into how to get those critical conversations that can change your life. Plus, step-by-step how-to sections help you get started creating your own contact marketing campaigns.
From Hollywood to the search for Amazon's HQ2, from a surprising new Contact Marketing model, to "Pocket Campaigns," which could replace traditional business cards, and persistence elements that run throughout a sales cycle, and from LinkedIn to virtual reality, Get the Meeting will spark your imagination and give you the tools you need to get the meetings--and life-changing results--you always wanted.
About the Author
Stu Heinecke is a Wall Street Journal cartoonist, Hall of Fame-nominated marketer and author. Heinecke discovered the magic of "Contact Marketing" early in his career, when he launched a Contact Campaign to just two dozen Vice Presidents and Directors of Circulation at the big Manhattan-based magazine publishers. That tiny $100 investment resulted in a 100% response rate, launched his enterprise and brought in millions of dollars worth of business. Heinecke is the host and author of the How To Get A Meeting with Anyone podcast and blog, and founder and president of Contact, a Contact Marketing agency, and cofounder of Cartoonists.org, a coalition of famed cartoonists dedicated to raising funds for charity, while raising the profile of the cartooning art form. He lives on an island in the pristine Pacific Northwest with his wife, Charlotte, and their dog, Bo.