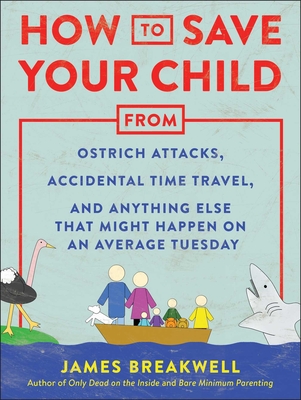 How to Save Your Child from Ostrich Attacks, Accidental Time Travel, and Anything Else that Might Happen on an Average Tuesday
Paperback

* Individual store prices may vary.
Other Editions of This Title:
Digital Audiobook (2/3/2020)
Compact Disc (2/4/2020)
Compact Disc (2/4/2020)
MP3 CD (2/4/2020)
Description
The parenting humorist behind the viral Twitter account @XplodingUnicorn and author of Only Dead on the Inside: A Parent's Guide to Surviving the Zombie Apocalypse presents the long-awaited guide to surviving everything else

In the era of instant parent shaming and viral hot takes, some questions are too dangerous to ask out loud: What's the proper first aid for my toddler's vampire bite? What should I do if I take a wrong turn on the way to soccer practice and end up in the Cretaceous Period? How can I fend off Godzilla without disrupting my child's nap?

Fortunately, there's now a parenting resource that answers those burning questions and many more.

Professional comedy writer and amateur father James Breakwell's latest book tackles more than 90 survival challenges ordinary parents might encounter in their everyday lives, including:

   • How to protect your child against tigers, penguins, mastodons, and other animals found in the suburbs.
   • How to defeat ghosts, gremlins, mummies, and any other supernatural force that might prevent you from getting your kid to bed on time.
   • How to survive crashing horses, trains, hot air balloons, and other vehicles you might find in the carpool lane.


This is an essential guide for anyone who has children, might have children someday, or is vaguely aware children exist. Put this book down at your own—and your children's—risk.
Praise For How to Save Your Child from Ostrich Attacks, Accidental Time Travel, and Anything Else that Might Happen on an Average Tuesday…
"Not worried about random ostrich attacks? Maybe you should be. All the good parents are reading How to Save Your Child. You do want to be a good parent, don't you? James Breakwell is brilliant, funny, hilarious, and possibly someone you'd want to have nearby in cases of ostrich attacks and accidental time travel, but what you definitely want to have around is his new book, which is a hysterical, survivable romp through this mad world."

—Carrie Jones, New York Times bestselling author of Need

"I adore this book, which, by the way, all parents should read for a laugh or just to realize you're not alone in the insanity." 

—Jill Shalvis, New York Times bestselling author of The Lucky Harbor series

"Nonstop, laugh-out-loud wit sprinkled with shockingly insightful parenting truths. Literally, no other parenting book has the courage to address accidental time travel. Bravo." 

—Joel Willis, executive editor of The Dad

"James has done it again with another hilarious book that manages to be completely off-the-wall and entirely relatable at the same time! Thanks to James's book, I'm prepared for any situation and several steps closer to immortality."

—Hal Lublin, voiceover actor and host of the podcast We Got This
BenBella Books, 9781948836456, 232pp.
Publication Date: November 5, 2019
About the Author
James Breakwell is a professional comedy writer and amateur father of four girls ages 7 and under. His Twitter account @XplodingUnicorn has more than 640,000 followers who check in with him daily as he fails as a parent and a human being.

Breakwell's comedy went viral in April 2016 when Buzzfeed featured his kid-centric jokes in an article that quickly drew more than 2 million views. His @XplodingUnicorn account grew by more than 400,000 followers in the following months. His jokes have been featured by USA Today, US Magazine, DailyMail.com, Metro.co.uk, Huffington Post, 9GAG, theCHIVE.com, CollegeHumor.com, various ABC and Fox TV news affiliates, and countless other TV, radio, and Internet outlets.

His articles have appeared in Reader's Digest, The Federalist, and AskMen. He has been a guest multiple times on HLN's The Daily Share, and they haven't banned him yet. He can open most jars on the first try and is only a little afraid of the dark. He still can't load the dishwasher right.