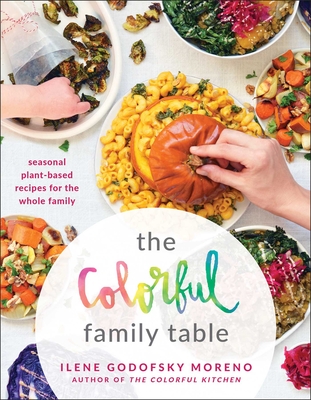 The Colorful Family Table (Paperback)
Seasonal Plant-Based Recipes for the Whole Family
Benbella Books, 9781948836470, 256pp.
Publication Date: December 3, 2019
* Individual store prices may vary.
Description
Delight your family's palate with a rainbow of delicious, plant-based dishes
Have an array of mouths to feed? Stubborn preteen, picky toddler, or a spouse skeptical of anything labeled "vegan"? The Colorful Family Table is here to help.
Certified health coach, plant-based food blogger and author of The Colorful Kitchen Ilene Godofsky returns with more than 90 all-new plant-based recipes perfect for your family's table. Created from simple, familiar ingredients, Ilene's recipes are reader-tested to please even the most finicky family members.
Inside, discover healthy, seasonal recipes, including:
Watermelon and Tofu Feta Salad
Zucchini Corn Fritters with Basil Aioli
Bacon, Kale & Apple Sammie
Pumpkin-Stuffed Pumpkin Mac n Cheese
Everything Bagel Pancakes & Spring Veggies with Hollandaise Sauce
Blueberry Quinoa Cornbread Muffins
Tempeh Tacos with Peach Salsa
Ross's Rainbow Veggie Kabobs
With easy-to-follow instructions (even for the kitchen novice ) and prep times designed for busy families, making meals as nutritious and delicious as they are eye-catching has never been easier. Make your family table a colorful family table, and spend more time enjoying the people who matter the most.
About the Author
Ilene Godofsky is a health coach, recipe developer, food photographer and the author of the blog The Colorful Kitchen. From her small (but colorful!) kitchen in Queens, New York, she combines her background in design with her passion for plant-based food to create and share recipes that are "colorful, not complicated."