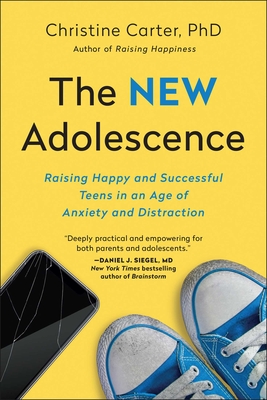 The New Adolescence
Raising Happy and Successful Teens in an Age of Anxiety and Distraction
Paperback

* Individual store prices may vary.
Other Editions of This Title:
Compact Disc (4/14/2020)
MP3 CD (4/14/2020)
Description
Parents of teenagers need a new playbook—one that addresses the new challenges they face today.

Teens are growing up in an entirely new world, and this has huge implications for our parenting. Understandably, many parents are baffled by problems that didn't exist less than a decade ago, like social media and video game obsession, sexting, and vaping.

The New Adolescence is a realistic and reassuring handbook for parents. It offers road-tested, science-based solutions for raising happy, healthy, and successful teenagers.

Inside, you'll find practical guidance for:

   • Providing the support and structure teens need (while still giving them the autonomy they seek)
   • Influencing and motivating teenagers
   • Helping kids overcome distractions that hinder their learning
   • Protecting them from anxiety, isolation, and depression
   • Fostering the real-world, face-to-face social connections they desperately need
   • Having effective conversations about tough subjects--including sex, drugs, and money 


A highly acclaimed sociologist and coach at UC Berkeley's Greater Good Science Center and the author of Raising Happiness, Dr. Christine Carter melds research—including the latest findings in neuroscience, sociology, and social psychology—with her own (often hilarious) real-world experiences as the mother of four teenagers.
Praise For The New Adolescence: Raising Happy and Successful Teens in an Age of Anxiety and Distraction…
"Mixing cutting-edge science with humor and personally earned wisdom, Christine Carter makes a convincing case that we need to step up our parenting with our teens. Fortunately, she also tells us how to do so in The New Adolescence in ways that seem not just possible in our busy lives, but deeply practical and empowering for both parents and adolescents." 

—Daniel J. Siegel, MD, New York Times bestselling author of Brainstorm, Aware,and coauthor of The Power of Showing Up

"Christine Carter truly gets teenagers.The New Adolescence is a sane, informative, and helpful book that I will be gifting over and over. It has already made me a better parent—and a happier one, too."

—Jessica Lahey, New York Times bestselling author of The Gift of Failure

"Dr. Carter brings her wonderful blend of solid science, practical suggestions, and warm encouragement to the biggest challenge most parents face: raising teenagers these days. The New Adolescence is both deep and accessible, comprehensive and fast-paced, and honoring of adolescents and respectful of parents' needs for reasonable authority."

—Rick Hanson, PhD, author of Resilient, Hardwiring Happiness,and Buddha's Brain

"Christine Carter has spent the last two decades honing the art and studying the science of effective parenting. This hands-on book is the guide every parent of teenagers needs."
—Susan Stiffelman, MFT, author of Parenting Without Power Struggles and Parenting with Presence (an Eckhart Tolle Edition)

"With solid research, relatable storytelling, and practical strategies and tactics, Christine Carter provides teens, parents, and families with the lifelines they need to create meaning, fulfillment, and the human connection that makes real life worth living. In this confusing and often terrifying brave new world, The New Adolescence comes as welcome and hopeful relief.
—Brigid Schulte, New York Times bestselling author of Overwhelmed and director of The Better Life Lab at New America

"If you're an American parent looking for helpful best practices in raising a teenager in this age of fractured attention and uncertain promise, you'll find sound advice in Christine Carter's The New Adolescence."

—Arlie Hochschild, author of The Second Shift and The Time Bind

"An essential primer on how to optimally parent teens. Christine Carter tells the raw truth about the current adolescent landscape, but instead of further freaking us out, The New Adolescence gives hope, as well as the road map for how to guide teens in this age of accelerated change."

—Tina Payne Bryson, New York Times bestselling author ofThe Whole Brain Child and No Drama Discipline

"Christine Carter's superpower is that she's a scientist, coach, and master parent all in one. Her unique gift is taking the research you don't have time to read and converting it into common sense you can use right away. I had so many underlining moments where I thought, 'I can't wait to try that one!'"

—Rachel Simmons, New York Times bestselling author of Odd Girl Out

"When you're worried about your child's happiness or anxieties, there's no better person to turn to than Christine Carter. Her smart and practical advice is always both immediately relevant and immediately accessible, making her an important voice in a changing parenting landscape."

—KJ Dell'Antonia, author of How to Be a Happier Parent and former lead editor of the New York TimesMotherlode blog

"In The New Adolescence, Christine Carter is addressing a topic that is vital to us as parents, grandparents, educators, and policy makers. A tsunami of anxiety and depression is surging upon today's teenagers, and Carter, as always, offers data, interprets the trends and causes, and then offers us constructive strategies to confidently and compassionately raise whole and healthy children."

—Jennifer Granholm, former governor of Michigan, and Dan Mulhern, leadership expert 

"A new parenting classic—The New Adolescence is an illuminating and deeply researched book for anyone hoping to raise teens who know how to find meaning, fulfillment, and lasting joy."

—Shawn Achor, author of Big Potential, and Michelle Gielan, author of Broadcasting Happiness
BenBella Books, 9781948836548, 280pp.
Publication Date: February 18, 2020
About the Author
Christine Carter, PhD, is the author of The Sweet Spot (2017) and Raising Happiness (2011). A sociologist and Senior Fellow at UC Berkeley's Greater Good Science Center, Carter draws on the latest scientific research in psychology, sociology and neuroscience—and uses her own real-world experiences—to give parenting, productivity and happiness advice. A sought-after keynote speaker and coach, Dr. Carter also teaches online classes that help people live their most fulfilling lives. She lives with her husband, four teenagers, and dog, Buster, in Marin County, California.