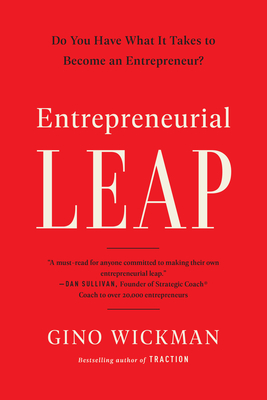 Entrepreneurial Leap
Do You Have What It Takes to Become an Entrepreneur?
Hardcover

* Individual store prices may vary.
Other Editions of This Title:
MP3 CD (10/15/2019)
Compact Disc (10/15/2019)
MP3 CD (10/15/2019)
Compact Disc (10/15/2019)
Description
You've thought about starting your own business . . . but how can you decide if you should really take the leap?
There's a lot on the line, and you have to ask yourself difficult questions: Do I have what it takes? Is it worth it? And how the hell do I do it?
You need answers, not bullshit. This book has them.
Entrepreneurial Leap: Do You Have What it Takes to Become an Entrepreneur? is an easy-to-use guide that will help you decide, once and for all, if entrepreneurship is right for you--because success as an entrepreneur depends on far more than just a great idea and a generous helping of luck.
In this three-part book, Gino Wickman, bestselling author of Traction, reveals the six essential traits that every entrepreneur needs in order to succeed, based on real-world startups that have reached incredible heights. If these traits ring true for you, you'll get a glimpse of what your life would look like as an entrepreneur. What's more, Wickman will help you determine what type of business best suits your unique skill set and provide a detailed roadmap, with tools, tips, and exercises, that will accelerate your path to startup success.
Packed with real-life stories and practical advice, Entrepreneurial Leap is a simple how-to manual for BIG results.
Should you take the leap toward entrepreneurship? Find out today and let tomorrow be the first step in your new journey, whatever shape it may take.
Benbella Books, 9781948836814, 256pp.
Publication Date: October 22, 2019
About the Author
Gino Wickman, bestselling author of Traction, has a passion for helping people get what they want from their businesses. To fulfill that passion, he created the Entrepreneurial Operating System(R) (EOS), which helps leaders run better businesses, get better control, have better life balance, and gain more traction--with the entire organization advancing together as a cohesive team. Wickman is the founder of EOS Worldwide, a growing organization of successful entrepreneurs collaborating as certified EOS Implementers to help people experience all the organizational and personal benefits of implementing EOS. He also delivers workshops and keynote addresses.