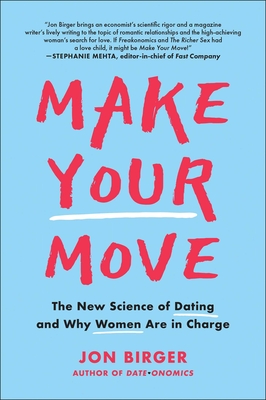 Make Your Move
The New Science of Dating and Why Women Are in Charge
Paperback

* Individual store prices may vary.
Other Editions of This Title:
Digital Audiobook (2/1/2021)
Description
"A powerful confidence boost well worth the read." —Manhattan Book Review

Modern romance is broken. It's time to flip the script.

Apps have transformed dating from a mysterious adventure into a daily chore. Young, single, college-educated women are sick and tired of competing for a shrinking supply of guys. And marriage-material men, long expected to take the lead when it comes to asking women out, are suddenly balking at making the first move, fearing they'll come across as creepy or inappropriate.

Society is changing, which means it's time for dating to evolve. Millennial and Gen Z women are more than capable of seeking out what—and who—they want. They're standouts in the classroom and champions on the playing fields. They're leaders in the workplace and trailblazers in city halls, state houses, and Congress. So why would we tell a generation of badass women that they're not allowed to be bold when it comes to finding love? Why should they have to sit back and wait (and wait and wait) for men to find them?

In Make Your Move: The New Science of Dating and Why Women Are in Charge, Jon Birger, author of Date-onomics, offers women bold new strategies for finding the one. Backed by research showing that women can win at romance by making the first move with the men of their choice, Birger explains why:

   • It's better to choose than to be chosen
   • The "play hard to get" method is not only outdated but grounded in bad science
   • The first move does not have to be a big move
   • It's time to log off of dating apps and date men you actually know
   • The workplace can be a terrific place to meet a long-term romantic partner
   • . . . and more!


Make Your Move is an honest, solution-based guide to finding love that lasts. If you're tired of playing by old rules, look no further: Make your move and win.
Praise For Make Your Move: The New Science of Dating and Why Women Are in Charge…
"Make Your Move is perfect and perfectly timed for me, personally . . . I will now go forth bolder than ever! With data and real-life examples of women who have taken command of their dating lives, Make Your Move will give you the skills and the confidence you need to win at love."

—Ylonda Gault, author of Child, Please: How Mama's Old-School Lessons Helped Me Check Myself Before I Wrecked Myself

"As a dating coach of 15+ years, I have always recommended that female clients take control of their love lives and witnessed how that consistently leads to more matches than a chivalry-led strategy. Make Your Move expertly outlines this argument and gives women the tools to find quality partners in this changing dating landscape."

—Damona Hoffman, advice columnist for the LA Times and host of The Dates & Mates Podcast

"Dating's old 'rules' don't work anymore. Today's new era demands a new guidebook for how to seek and create lasting relationships. Thankfully we have Jon Birger, who weaves analytical research, exhaustive reporting, and fun storytelling into practical counsel that moves past all the outdated thinking and tired advice on dating."

—Sridhar Pappu, "The Male Animal" columnist for the New York Times

"Jon Birger's new book explains why traditional dating advice fails so many of these women—pushing them to play games or conceal career goals just to land a man. I highly recommend Make Your Move to women who are frustrated with the state of modern dating."

—Dr. Lynn Westphal, chief medical officer of Kindbody and former director of Stanford University's Fertility Preservation Program

 

"In his seminal Date-onomics, Jon Birger showed how the dating odds are stacked against even the most accomplished women. In Make Your Move, he's reshuffled the deck so that single women have the upper hand. In the high-stakes dating game, Jon Birger offers modern women a winning chance at love." 

—Melanie Notkin, author of OTHERHOOD: Modern Women Finding a New Kind of Happiness

"Jon Birger brings an economist's scientific rigor and a magazine writer's lively writing to the topic of romantic relationships and the high-achieving woman's search for love. If Freakonomics and Liza Mundy's The Richer Sex had a love child, it might be Make Your Move."

—Stephanie Mehta, editor in chief of Fast Company

"If you're frustrated with the transactional approach to romance fostered by dating apps, Jon Birger's new book offers a refreshing alternative. Navigating the dating world through the lens of science, Make Your Move gives successful women tools and solutions for finding marriage-minded, romantic partners. An honest and compelling read, Make Your Move provides reassurance and hope for singles looking for their dream match."

—Amy Andersen, founder of Linx Dating and "the matchmaker of Silicon Valley" as dubbed by Vogue

"Smart, fun, and fast-paced, Make Your Move blends anecdotal storytelling about finding love with the latest research on the biology and psychology of dating—research that debunks so much of the conventional wisdom women have been raised on. If you're ready for a new approach for finding a partner, buy Make Your Move!"

—Jean Chatzky, bestselling author, financial editor at Today, and host of the HerMoney Podcast

"Jon Birger seamlessly weaves together stories, scientific research, and compelling advice on rethinking the outdated gender norms preventing many single women from finding meaningful romantic relationships. With its counterintuitive but critically important message, Make Your Move is a dynamic read for single women of all ages."

—Marcia Inhorn, professor of anthropology at Yale University and leading expert on rising global demand for infertility treatments
BenBella Books, 9781948836906, 256pp.
Publication Date: February 2, 2021
About the Author
Jon Birger is an award-winning magazine writer, a contributor to Fortune, and the author of Date-onomics: How Dating Became a Lopsided Numbers Game. A former senior writer at both Fortune and Money, Jon's work has also appeared in Barron's, Bloomberg BusinessWeek, New York Magazine, Time, and Washington Post. He was included on AlwaysOn Network's list of "Power Players in Technology Business Media." A familiar face and voice on television and radio, Jon has been a guest on ABC's Good Morning America, BBC World Service, CNBC, CNN, MSNBC, National Public Radio, and Fox News-discussing a wide range of topics from the dating market to the stock market to oil market.