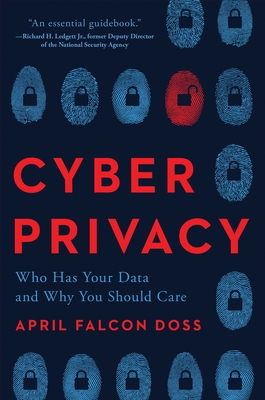 Cyber Privacy
Who Has Your Data and Why You Should Care
Hardcover

* Individual store prices may vary.
Other Editions of This Title:
Digital Audiobook (12/14/2020)
Description
2020 Foreword Indie Award Winner (Gold) in the "Science & Technology" Category

"Chilling, eye-opening, and timely, Cyber Privacy makes a strong case for the urgent need to reform the laws and policies that protect our personal data. If your reaction to that statement is to shrug your shoulders, think again. As April Falcon Doss expertly explains, data tracking is a real problem that affects every single one of us on a daily basis."
—General Michael V. Hayden, USAF, Ret., former Director of CIA and NSA and former Principal Deputy Director of National Intelligence

 

You're being tracked.

Amazon, Google, Facebook, governments. No matter who we are or where we go, someone is collecting our data: to profile us, target us, assess us; to predict our behavior and analyze our attitudes; to influence the things we do and buy—even to impact our vote.

If this makes you uneasy, it should.

We live in an era of unprecedented data aggregation, and it's never been more difficult to navigate the trade-offs between individual privacy, personal convenience, national security, and corporate profits. Technology is evolving quickly, while laws and policies are changing slowly.

You shouldn't have to be a privacy expert to understand what happens to your data.

April Falcon Doss, a privacy expert and former NSA and Senate lawyer, has seen this imbalance in action. She wants to empower individuals and see policy catch up.

In Cyber Privacy, Doss demystifies the digital footprints we leave in our daily lives and reveals how our data is being used—sometimes against us—by the private sector, the government, and even our employers and schools. She explains the trends in data science, technology, and the law that impact our everyday privacy. She tackles big questions: how data aggregation undermines personal autonomy, how to measure what privacy is worth, and how society can benefit from big data while managing its risks and being clear-eyed about its cost.

It's high time to rethink notions of privacy and what, if anything, limits the power of those who are constantly watching, listening, and learning about us.

This book is for readers who want answers to three questions: Who has your data? Why should you care? And most important, what can you do about it?
Praise For Cyber Privacy: Who Has Your Data and Why You Should Care…
"In Cyber Privacy, April Falcon Doss has written the most sweeping, revealing, and understandable book about privacy and our digital lives . . . A must-read if you want to understand how both businesses and governments know so much about you and how our society needs to adapt to preserve an individual's sense of identity."

—Glenn Gerstell, senior advisor, Center for Strategic and International Studies, and former general counsel, National Security Agency 

"We all have serious—but too often vague—concerns that every day computer usage poses a dire threat to our personal and financial well-being, as well the nation's security. In her new book Cyber Privacy, April Falcon Doss—the nation's leading expert on this subject—not only tells why that is so, but in a clear and engaging way arms us with strategies to protect ourselves, our loved ones, and the nation itself from life-threatening assaults on our privacy."

—Michael Greenberger, professor, University of Maryland Carey Law School and director of the Center for Health and Homeland Security, University of Maryland 

"From big tech companies, retailers, advertising companies, through to the police and intelligence agencies of the US and beyond, this is an absolutely critical read for anyone who wants to understand the complex, and often unintuitive, consequences of living in our increasingly data-driven world."

—Matt Tait, independent cybersecurity expert, formerly at GCHQ and Google Project Zero, and former senior cybersecurity fellow at the Robert Strauss Center for International Security and Law at the University of Texas at Austin 

"A brilliantly written tour de force on privacy in the 21st century. Combining decades of experience on all sides of the privacy debate, Doss combines incisive analysis of disruptive technologies, underlying economics, and increasingly complex legal overlays to deliver an essential primer on the fraught privacy landscape."

—Chris Inglis, deputy director, NSA, 2006–2014 

"At a time when most internet users do not understand the complex concoction of algorithms, engagement, microtargeting, and personal data profiles that curate the information they see, April Falcon Doss uses her multi-sector experience to make privacy accessible to all. Anyone who cares about maintaining a grip on their personal information—or at least being informed about what's happening with it—should read this book."

—Nina Jankowicz, author of How to Lose the Information War 

"Without losing sight of the substantial benefits that are achieved through collecting and analyzing personal information on a massive scale, Doss exposes the unregulated practices of the large data collectors—including Apple, Amazon, Facebook, and Google—then examines the regulated practices of the Intelligence Community and the constraints—good and bad—on law enforcement activities . . . This book makes the case that we seriously need to re-examine what we are doing, and it provides useful guidance on where and how we can start to make meaningful changes that will benefit most everyone."

—David C. Shonka, former acting general counsel, Federal Trade Commission, and privacy partner at Redgrave LLP

"April Falcon Doss has provided a vital contribution to our understanding of privacy and cybersecurity. Cyber Privacy provides laymen and experts alike with a rich understanding of the laws and technology that shape our ability to control who accesses our personal information and what they do with it."

—Jeff Kosseff, author, The Twenty-Six Words That Created the Internet

"Whether you are a technology user, a compliance or privacy officer, or a practicing lawyer, this book will help in understanding the complex intersections of technology, the internet economy, the role of the state, and the uses of personally identifiable information and metadata . . . An essential guidebook."

—Rick Ledgett, former deputy director, NSA

"April Falcon Doss thoughtfully, expertly and critically informs and navigates the reader across an amazing number of privacy invasion scenarios to an extent not seen in previous publications . . . Novice and expert readers alike will profit from this important book."

—William H. Murphy, Jr., former judge and prominent civil rights attorney

"April Falcon Doss has spent a career at the National Security Agency, Senate intelligence committee, and in private practice influencing the decisions that shape technology, cybersecurity, and data privacy. In this book, Doss turns twenty years of perspective and experience into a Cyber Privacy road map to guide those looking to understand how data came to rule our world and where we go from here."

—Susan Hennessey, author of Unmaking the Presidency
BenBella Books, 9781948836920, 384pp.
Publication Date: November 3, 2020
About the Author
April Falcon Doss spent over a decade at the National Security Agency, where she was the associate general counsel for intelligence law. She also served on Capitol Hill as the senior minority counsel for the Russia investigation in the United States Senate Select Committee on Intelligence. Doss is a regular commentator on data privacy, cybersecurity, and national security issues. She has appeared on CNN, MSNBC, and NPR. April's articles have appeared in a wide range of publications, including the Washington Post, Atlantic, Weekly Standard, Lawfare, and SciTech Lawyer.
or
Not Currently Available for Direct Purchase