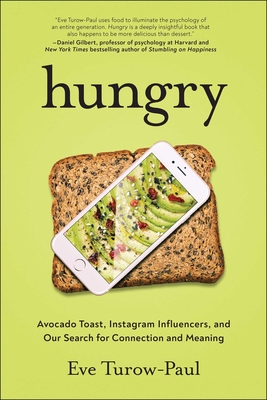 Hungry
Avocado Toast, Instagram Influencers, and Our Search for Connection and Meaning
Hardcover

* Individual store prices may vary.
Other Editions of This Title:
Digital Audiobook (9/7/2020)
MP3 CD (9/8/2020)
Compact Disc (9/8/2020)
Description
"Hungry is an excellent text about people's methods of adapting to modern life; it encompasses psychology, generational identities, and marketing in its considerations of contemporary society."
—Foreword Reviews

We wait in lines around the block for scoops of cookie dough. We photograph every meal. We visit selfie performance spaces and leave lucrative jobs to become farmers and craft brewers.

Why? What are we really hungry for?

In Hungry, Eve Turow-Paul provides a guided tour through the stranger corners of today's global food and lifestyle culture. How are 21st-century innovations and pressures are redefining people's needs and desires? How does "foodie" culture, along with other lifestyle trends, provide an answer to our rising rates of stress, loneliness, anxiety, and depression?

Weaving together evolutionary psychology and sociology with captivating investigative reporting from around the world, Turow-Paul reveals the modern hungers—physical, spiritual, and emotional—that are driving today's top trends:

   • The connection between the "death" of the cereal industry and access to work email on our smartphones
   • How posting images of our dinners on social media both fulfills and feeds our hunger for human connection in an increasingly isolated world
   • The ways "diet tribes" and boutique fitness gyms substitute for organized religion 
   • How access to round-the-clock news relates to the blowback against GMO foods
   • Wellness retreats, astrology, plant parenthood, and other methods of easing modern anxiety
   • Why "eating local" might be the key to solving not just climate change, but our current global sense of disconnection


From gluten-free and Paleo diets to meal kit subscriptions, and from mukbang broadcast jockeys to craft beer, Hungry deepens our understanding of why we do what we do, and helps us find greater purpose and joy in today's technology-altered world.
Praise For Hungry: Avocado Toast, Instagram Influencers, and Our Search for Connection and Meaning…
"With substance, style, and a keen eye for data, Eve Turow-Paul uses food to illuminate the psychology of an entire generation. Hungry is a deeply insightful book that also happens to be more delicious than dessert."

—Daniel Gilbert, author of Stumbling on Happiness and professor of psychology at Harvard

"Turow-Paul combines great story-telling with a hard look at many trends and beliefs that are not based on facts. She artfully explains why they pull us in anyway, the psychological needs they fill, and how we can bring order and sanity to one of the most fraught topics today: food."

—Dr. Daniel J. Levitin, neuroscientist and New York Times bestselling author of The Organized Mind
BenBella Books, 9781948836975, 368pp.
Publication Date: June 9, 2020
About the Author
Eve Turow-Paul is a nationally recognized thought leader on youth culture and the food system. As a writer and adviser, Eve studies food trends and human behavior. With her unique blend of investigative reporting and analysis of academic research and lifestyle markets, Turow-Paul identifies the wants and needs that explain today's hottest trends. Born in Evanston, Illinois, Turow-Paul graduated from Amherst College in 2009 with a degree in psychology. She is a frequent keynote speaker, a Forbes contributor, and the author of A Taste of Generation Yum: How the Millennial Generation's Love for Organic Fare, Celebrity Chefs and Microbrews Will Make or Break the Future of Food. You can see her in the documentary film WASTED! The Story of Food Waste. Today, Turow-Paul utilizes her extensive empirical research to advise Fortune 500 companies, startups, and independent entrepreneurs on how to connect with and better serve people in this digital age.