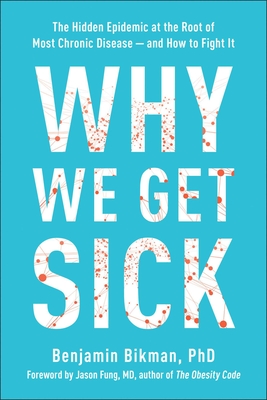 Why We Get Sick
The Hidden Epidemic at the Root of Most Chronic Disease--and How to Fight It
Hardcover

* Individual store prices may vary.
Other Editions of This Title:
Digital Audiobook (10/19/2020)
Paperback (9/7/2021)
Compact Disc (10/20/2020)
Compact Disc (10/20/2020)
MP3 CD (10/20/2020)
Description
2020 Foreword Indie Award Honorable Mention in the "Health" Category

A scientist reveals the groundbreaking evidence linking many major diseases, including cancer, diabetes, and Alzheimer's disease, to a common root cause—insulin resistance—and shares an easy, effective plan to reverse and prevent it.

We are sick. Around the world, we struggle with diseases that were once considered rare. Cancer, heart disease, Alzheimer's disease, and diabetes affect millions each year; many people are also struggling with hypertension, weight gain, fatty liver, dementia, low testosterone, menstrual irregularities and infertility, and more. We treat the symptoms, not realizing that all of these diseases and disorders have something in common. 

Each of them is caused or made worse by a condition known as insulin resistance. And you might have it. Odds are you do—over half of all adults in the United States are insulin resistant, with most other countries either worse or not far behind. 

In Why We Get Sick, internationally renowned scientist and pathophysiology professor Benjamin Bikman explores why insulin resistance has become so prevalent and why it matters. Unless we recognize it and take steps to reverse the trend, major chronic diseases will be even more widespread. But reversing insulin resistance is possible, and Bikman offers an evidence-based plan to stop and prevent it, with helpful food lists, meal suggestions, easy exercise principles, and more. Full of surprising research and practical advice, Why We Get Sick will help you to take control of your health.
Praise For Why We Get Sick: The Hidden Epidemic at the Root of Most Chronic Disease--and How to Fight It…
"What if, instead of all these conditions and disease being separate and unconnected, one physiological state—elevated insulin levels—was the driver of all this suffering? In Why We Get Sick, Benjamin Bikman unpacks the root cause of modern diseases and provides a concise road map to help you regain or maintain your health."

—Robb Wolf, New York Times and Wall Street Journal bestselling author 

"This book is a unique, rigorous contribution to understanding insulin resistance as an underlying cause of chronic disease and aging. Well written and highly accessible, Dr. Bikman has written a book for both scientists and the average reader who seeks a path back to good health."

—Nina Teicholz, science journalist and New York Times bestselling author of The Big Fat Surprise

"It's time to make 'insulin resistance' part of the public lexicon. That so many people are unaware of this widespread condition with serious ramifications is a monumental problem, and it's one that Why We Get Sick sets out to solve."

—Dr. Aseem Malhotra, cardiologist and professor of evidence-based medicine 

"Thoroughly researched and extensively documented, Why We Get Sick is a comprehensive and indispensable primer on insulin resistance and how it affects virtually every system in the body. Dr. Bikman presents not only an easy-to-understand guide to how and why insulin resistance develops, but a treatment handbook as well."

—Michael R. Eades, MD, New York Times bestselling coauthor of Protein Power

"Insulin resistance underpins nearly every single chronic disease that we struggle with today and ultimately costs us countless billions of dollars in health-care spending, as well as an untold amount of human suffering. Professor Ben Bikman masterfully lays out the role of insulin resistance in disease, how it affects our bodies, and, most important, how to fix it!"

—Shawn Baker, MD, author of The Carnivore Diet and CEO of MeatRx.com

"Bikman's sweeping summary of the science of human metabolism makes the ironclad case for insulin resistance as Public Health Enemy #1. Whether the reader is interested in losing excess body fat, optimizing brain function, preventing heart disease, reducing cancer risk, or improving fertility—this expert curation of the research leaves no stone unturned."

—Georgia Ede, MD, nutritional psychiatrist
BenBella Books, 9781948836982, 280pp.
Publication Date: July 21, 2020
About the Author
Benjamin Bikman earned his PhD in Bioenergetics and was a postdoctoral fellow with the Duke-National University of Singapore studying metabolic disorders. Currently, his professional focus as a scientist and professor (Brigham Young University) is to better understand the origins and consequences of metabolic disorders, including obesity and diabetes, with a particular emphasis on the role of insulin. He frequently publishes his research in peer-reviewed journals and presents at international science and public meetings.