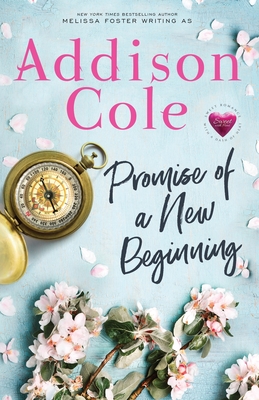 Promise of a New Beginning (Paperback)
World Literary Press, 9781948868198, 336pp.
Publication Date: August 14, 2019
* Individual store prices may vary.
Description
Discover the magic of the Bradens, and fall in love with Addison Cole's rich and romantic storytelling. Addison Cole is the sweet-romance pen name of New York Times bestselling author Melissa Foster. Addison Cole novels are the sweet editions of Melissa's steamy romance Love in Bloom series, and are written to stand alone, or to be enjoyed as part of the larger Sweet with Heat series.
Sweet with Heat novels convey all of the passion you'd expect to find between two people in love without any graphic scenes or harsh language. If you are looking for a more explicit romance, pick up the steamy edition of this title, Bursting with Love, by Melissa Foster.
In PROMISE OF A NEW BEGINNING...
After having her heart broken by a country music star, Savannah Braden has sworn off men. She takes a break from her fast-paced Manhattan lifestyle for a weekend at a survivor camp to rebuild her confidence and readjust her priorities. But when she meets the handsome guide, Jack Remington, she's drawn to everything about him--from his powerful physique to his brooding stare--despite the big chip on his shoulder. Powerless to ignore the heated glances and mounting attraction, Savannah begins to reassess her hasty decision.
After losing his wife in a tragic accident, Jack Remington found solace in the Colorado Mountains. This solitary existence allows him to wallow in his guilt and punish himself for having made a decision that he believes cost his wife her life. He never expected to want to return to the life he once knew--but then again, he never expected to meet gorgeous, stubborn, and competitive Savannah Braden.
One passionate kiss is all it takes to crack the walls the two have built to protect themselves, and allow love to slip in. While Jack fights his way through his guilt, and struggles to get back into the lives of those he left behind, Savannah is there to help him heal, and together they nurture hope that they've finally found their forever loves.
SWEET WITH HEAT: WESTON BRADENS
A Love So Sweet
Our Sweet Destiny
Unraveling the Truth About Love
The Art of Loving Lacy
Promise of a New Beginning
And Then There Was Us
ALSO AVAILABLE for your binge-reading pleasure, more fun, flirty, and romantic love stories. The Seaside and Bayside series are set in the quaint small towns of Cape Cod, making them perfect beach reads
SWEET WITH HEAT: SEASIDE SUMMERS SERIES
Read, Write, Love at Seaside
Dreaming at Seaside
Hearts at Seaside
Sunsets at Seaside
Secrets at Seaside
Nights at Seaside
Seized by Love at Seaside
Embraced at Seaside
Lovers at Seaside
Whispers at Seaside
SWEET WITH HEAT: BAYSIDE SUMMERS SERIES
Sweet Love at Bayside
Sweet Passions at Bayside
Sweet Heat at Bayside
Sweet Escape at Bayside