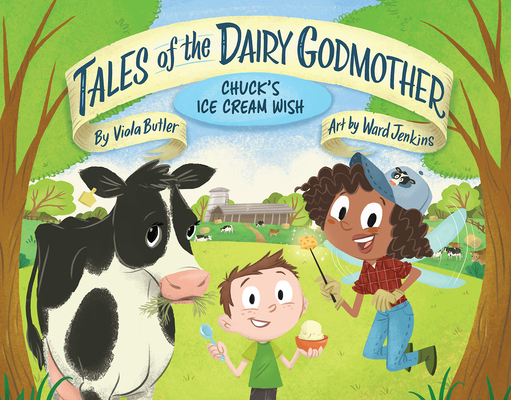 Chuck's Ice Cream Wish (Tales of the Dairy Godmother)
Hardcover

* Individual store prices may vary.
Description
With the help of his Dairy Godmother, Chuck is taken—poof!—on a memorable and delicious adventure to a dairy farm. He finds out exactly where ice cream comes from and gains an even deeper love and appreciation for his favorite food.
Feeding Minds Press, 9781948898010, 40pp.
Publication Date: March 17, 2020
About the Author
Viola Butler struggled to read growing up, but once she figured it out, she couldn't stop! Books and stories have always been a favorite of hers, only to be topped by her love of cake. Chuck's Ice Cream Wish is her first published book. She lives in the suburbs with family and her cat who hates everyone. Ward Jenkins is an illustrator and storyboard artist from the Atlanta, Georgia area. His illustrated picture books include Chicks Run Wild, Rocket Shoes, and Salam Alaikum: A Message of Peace, as well as the Good Crooks series. Additionally, he has served as storyboard artist for several animated TV series such as My Little Pony and Bing. Ward extensively researched for this book by visiting dairy farms in Georgia and would like to thank the Georgia Farm Bureau, Ag in the Classroom, and The Dairy Alliance for their insight and generosity. Ward lives with his photographer wife, Andrea and two teenagers, Ava and Ezra and has not shaved his beard since 2010. Visit him at www.wardjenkins.com.