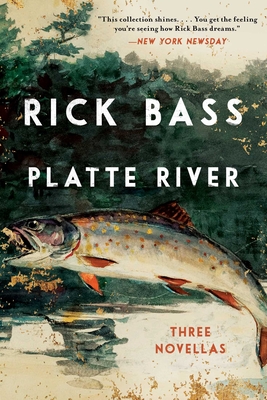 Platte River
Three Novellas
Paperback

* Individual store prices may vary.
Other Editions of This Title:
Paperback (3/1/2007)
Description
Available again, an acclaimed collection from an American master that USA Today called "Powerful . . . lyrical, vivid, engaging."

Originally published twenty-five years ago, Platte River is one of the early collections that established Rick Bass's reputation as a master of the short form and one of the best writers of his generation. It contains three novellas of contemporary America, each informed by the mysteries of nature and the heart. Set along borders, both physical and immaterial, all of the novellas combine a spare but radiant naturalism with an outsize aspiration to folklore or myth.

In the title story, a former pro linebacker living a simple, isolated life in the Canadian woods just across the border from Montana struggles with his artist girlfriend's desire to escape. Invited by his best friend from their college football days to give a talk at the school where the friend now teaches, he flies to northern Michigan. In the class the next morning, after a night fishing party on the Platte River, what he learns brings acceptance, and a kind of salvation.

In "Mahatma Joe," a despairing evangelist living in a valley that was once so wild the people would go naked when the Chinook winds blew, announcing winter's end, throws his fervor into planting a garden along the river, bringing purpose to the young woman who had camped there.

"Field Events," the most comic of the stories, begins when two athlete brothers spy an enormous, muscled man swimming in the river, hauling a canoe loaded with cast iron. Their plan to train him in the discus meets with complications, when the giant and their older sister find in each other the missing part that neither could articulate.
Praise For Platte River: Three Novellas…
"Marvelous . . . The title story is stunning."—Los Angeles Times Book Review

"Powerful . . . [Rick Bass] reminds me of D. H. Lawrence, who also relied on the power of his own voice to mesmerize the reader. . . . Lyrical, vivid, engaging."—USA Today

"Spellbindingly articulate . . . [A] compassionate exploration of what learning to love feels like, smells like, and sounds like."— San Francisco Chronicle

"Mythical . . . Bass creates a clear and luminous world where legends are still told."—Christian Science Monitor

"This collection shines. . . . You get the feeling you're seeing how Rick Bass dreams."—New York Newsday

"Bass has written some of the finest short stories in the land: terse, haunting, often near-mystical tales that have brought comparisons to Hemingway and the late Raymond Carver."—Oregonian

"A warm, introspective read, filled with lush imagery of beautiful natural wonders."—Midwest Book Review

"Impressive . . . What makes this a compelling book are his finely detailed, complex characters, simple men and women crafted with sympathy and understanding."—Publishers Weekly, starred review

"Delectable . . . Within this rich blend of naturalism touched by mystery, the exhilarating landscapes of Montana, upstate New York, and northern Michigan inform the book as fully as the human principals. . . . Bass demonstrates here his mastery of longer fiction."—Library Journal

"Three fascinating long stories from a greatly gifted writer avatar of the outdoors. . . . Beautifully written and filled with radiant imagery and a powerful sense of the mysteries of nature—human and otherwise."—Kirkus Reviews

"A literary titan . . . Bass is, hands down, a master of the short form, creating in a few pages a natural world of mythic proportions."—New York Times Book Review

"Bass's prose is charged with a lyrical intensity rare in American fiction. The beauty of his sentences recalls the stylistic finesse of McCarthy and Willa Cather, but he does more than just write prettily. Reading Rick Bass offers the deep pleasure of reinhabiting an older world, one that's not lost so much as latent and usually unnoticed . . . Each line of Bass's extraordinary prose brings you more awake."—Chicago Tribune

"Bass is an acknowledged master of the short story. . . . His greatest gift, what makes Rick Bass one of the very best writers we have, is his understanding of the soft hearts within even the hardest people."—San Francisco Chronicle

"Rick Bass joins the pantheon of contemporary masters."—O, The Oprah Magazine

"Rick Bass writes fiction with almost mythic plot devices that unfold with an authenticity that is startling . . . [He] can lift a common moment into a shared experience that is universal."—Seattle Times
Arcade, 9781948924047, 168pp.
Publication Date: April 16, 2019
About the Author
Rick Bass is an author and activist. He has received many awards and honors for his short fiction, including the O. Henry Award, the Pushcart Prize, the PEN/Nelson Algren Special Citation, and the Story Prize. He is also the author of novels and nonfiction, most recently The Traveling Feast: On the Road and at the Table with My Heroes. His stories, essays, and articles have appeared in a wide variety of magazines, including The New Yorker, the Paris Review, Atlantic Monthly, Esquire, and the Los Angeles Times Sunday Magazine. He lives in the Yaak Valley , Montana, where he is a member of the Yaak Valley Forest Council.
or
Not Currently Available for Direct Purchase