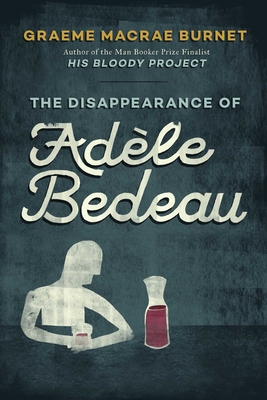 The Disappearance of Adèle Bedeau (Paperback)
An Inspector Gorski Investigation
Arcade, 9781948924061, 256pp.
Publication Date: October 2, 2018
Other Editions of This Title:
Hardcover (10/10/2017)
Compact Disc (10/24/2017)
MP3 CD (10/24/2017)
Library Binding, Large Print (5/2/2018)
MP3 CD (7/10/2018)
* Individual store prices may vary.
Description
"A stylish, atmospheric mystery with a startling twist . . . satisfies like Simenon and surprises like Ruth Rendell. I can't give it any higher praise."--NPR

Manfred Baumann is a loner. Socially awkward and perpetually ill at ease, he spends his evenings quietly drinking and surreptitiously observing Adèle Bedeau, the sullen but alluring waitress at a drab bistro in the unremarkable small French town of Saint-Louis. One day, she simply vanishes into thin air and Georges Gorski, a detective haunted by his failure to solve one of his first murder cases, is called in to investigate the girl's disappearance. He sets his sights on Manfred.

As Manfred cowers beneath Gorski's watchful eye, the murderous secrets of his past begin to catch up with him and his carefully crafted veneer of normalcy falters. His booze-soaked unraveling carries him from Saint-Louis to the back alleys of Strasbourg. Graeme Macrae Burnet's masterful play on literary form featuring an unreliable narrator makes for a grimly entertaining psychological thriller that questions if it is possible, or even desirable, to know another man's mind.
About the Author
Graeme Macrae Burnet has established a reputation for smart and literary mystery writing with his highly praised novel, His Bloody Project, which was a finalist for the Man Booker Prize and the Los Angeles Times Book Award. He was born and brought up in Kilmarnock and has lived in Prague, Bordeaux, Porto, and London. He now lives in Glasgow, Scotland.
Praise For The Disappearance of Adèle Bedeau: An Inspector Gorski Investigation…
"It's only a story --or is it-- Graeme Macrae Burnet makes such masterly use of the narrative form that the horrifying tale he tells in HIS BLOODY PROJECT, a finalist for this year's Man Booker Prize, seems plucked straight out of Scotland's sanguinary historical archives." - Marilyn Stasio, The New York Times Book Review

"Thought-provoking fiction."--The New York Times Book Review, Editors' Choice

"[A] powerful, absorbing novel" Fiction authors from Henry James to Vladimir Nabokov to Gillian Flynn have used [an unreliable narrator] to induce ambiguity, heighten suspense and fold an alternative story between the lines of a printed text. Mr. Burnet, a Glasgow author, does all of that and more in this page-turning period account of pathos and violence in 19th-century Scotland" [A] cleverly constructed tale. Has the lineaments of the crime thriller but some of the sociology of a Thomas Hardy novel." -Tom Nolan, Wall Street Journal

"Burnet is a writer of great skill and authority . . . few readers will be able to put down His Bloody Project as it speeds towards a surprising (and ultimately puzzling) conclusion." -Financial Times

"A stellar crime novel and a wrenching historical portrait, HIS BLOODY PROJECT also succeeds at lyrically questioning whether it's possible to know another man's mind--or even desirable. The novel sends out vines in all directions, its characters' tangled motives obscured by tragedy and lies." - Lyndsay Faye, author of Gods of Gotham

"Clever and gripping" -Library Journal, starred review

"Psychologically astute and convincingly grounded in its environment . . . a fine achievement." -The National

"Fiendishly readable . . . A psychological thriller masquerading as a slice of true crime. . . The book is also a blackly funny investigation into madness and motivation." -Guardian

". . .sly, poignant, gritty, thought-provoking, and sprinkled with wit."
-Publishers Weekly, starred review

"I disappeared inside the pages of Graeme Macrae Burnet's His Bloody Project. . . fascinating" -Seattle Times

"Burnet has created an eloquent character who will stick with you long after the book is read." -Seattle Review of Books

"Both a horrific tale of violence and a rumination on the societal problems for poor sharecroppers of the era." - Time

"One of the most convincing and engrossing novels of the year." -The Scotsman

"A truly ingenious thriller as confusingly multilayered as an Escher staircase" - Daily Express

"There is no gainstaying the ingenuity with which Burnet has constructed his puzzle. . ." -Telegraph

"A masterful psychological thriller" - Ian Stephen, author of A Book of Death and Fish

"A gripping crime story, a deeply imagined historical novel, and gloriously written, all in one tour-de-force of a book. Stevensonian, that's the highest praise I can give." - Chris Dolan, Sunday Herald, Books of the Year

"Psychologically astute and convincingly grounded in its environment, this study of petty persecution and murder is a fine achievement from an ambitious and accomplished writer." - Richard Strachan, The National

"Masterful, clever and playful . . . one of the most experimental and assured authors currently writing in Scotland" - Louise Hutcheson, A Novel Bookblog

"One of the most enjoyable and involving novels you'll read this year" - Alistair Braidwood, Scots Wha Hae

Praise for The Disappearance of Adele Bedeau
"A stylish, atmospheric mystery with a startling twist . . . satisfies like Simenon and surprises like Ruth Rendell. I can't give it any higher praise."—NPR

"A brilliant character study of a social outcast and a creepy, twisting, deviously well-constructed story of intrigue and murder that reads like a lost classic."—Thomas Mullen, author of Darktown

"The Disappearance of Adele Bedeau is a quietly relentless exploration of the complexities of guilt and the awkwardness and banality of evil. An intensely inventive novel, as subtle as it is shocking."--Ian McGuire, author of The North Water

"Graeme Macrae Burnet avoids the black and the white and paints a picture of a troubled, paranoid outsider drifting through the gray areas of life. He grabs the reader by the chin and holds them captive as they watch Manfred Baumann?s life and psyche slowly unravel under the scrutiny of a detective?s eye."—Robin Yocum, author of Favorite Sons and The Essay

"A captivating psychological thriller ... Very accessible and thoroughly satisfying."—The Herald

"A strikingly singular talent"—Scottish Book Trust

"It's only a story --or is it-- Graeme Macrae Burnet makes such masterly use of the narrative form that the horrifying tale he tells in HIS BLOODY PROJECT, a finalist for this year's Man Booker Prize, seems plucked straight out of Scotland's sanguinary historical archives." - Marilyn Stasio, The New York Times Book Review

"Thought-provoking fiction."--The New York Times Book Review, Editors' Choice

"[A] powerful, absorbing novel" Fiction authors from Henry James to Vladimir Nabokov to Gillian Flynn have used [an unreliable narrator] to induce ambiguity, heighten suspense and fold an alternative story between the lines of a printed text. Mr. Burnet, a Glasgow author, does all of that and more in this page-turning period account of pathos and violence in 19th-century Scotland" [A] cleverly constructed tale. Has the lineaments of the crime thriller but some of the sociology of a Thomas Hardy novel." -Tom Nolan, Wall Street Journal

"Burnet is a writer of great skill and authority . . . few readers will be able to put down His Bloody Project as it speeds towards a surprising (and ultimately puzzling) conclusion." -Financial Times

"A stellar crime novel and a wrenching historical portrait, HIS BLOODY PROJECT also succeeds at lyrically questioning whether it's possible to know another man's mind--or even desirable. The novel sends out vines in all directions, its characters' tangled motives obscured by tragedy and lies." - Lyndsay Faye, author of Gods of Gotham

"Clever and gripping" -Library Journal, starred review

"Psychologically astute and convincingly grounded in its environment . . . a fine achievement." -The National

"Fiendishly readable . . . A psychological thriller masquerading as a slice of true crime. . . The book is also a blackly funny investigation into madness and motivation." -Guardian

". . .sly, poignant, gritty, thought-provoking, and sprinkled with wit."
-Publishers Weekly, starred review

"I disappeared inside the pages of Graeme Macrae Burnet's His Bloody Project. . . fascinating" -Seattle Times

"Burnet has created an eloquent character who will stick with you long after the book is read." -Seattle Review of Books

"Both a horrific tale of violence and a rumination on the societal problems for poor sharecroppers of the era." - Time

"One of the most convincing and engrossing novels of the year." -The Scotsman

"A truly ingenious thriller as confusingly multilayered as an Escher staircase" - Daily Express

"There is no gainstaying the ingenuity with which Burnet has constructed his puzzle. . ." -Telegraph

"A masterful psychological thriller" - Ian Stephen, author of A Book of Death and Fish

"A gripping crime story, a deeply imagined historical novel, and gloriously written, all in one tour-de-force of a book. Stevensonian, that's the highest praise I can give." - Chris Dolan, Sunday Herald, Books of the Year

"Psychologically astute and convincingly grounded in its environment, this study of petty persecution and murder is a fine achievement from an ambitious and accomplished writer." - Richard Strachan, The National

"Masterful, clever and playful . . . one of the most experimental and assured authors currently writing in Scotland" - Louise Hutcheson, A Novel Bookblog

"One of the most enjoyable and involving novels you'll read this year" - Alistair Braidwood, Scots Wha Hae
or
Not Currently Available for Direct Purchase