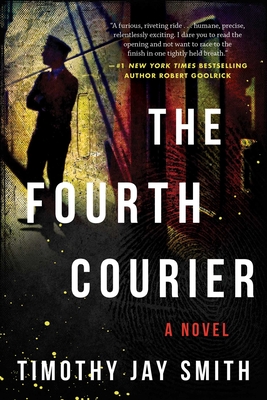 The Fourth Courier
A Novel
Hardcover

* Individual store prices may vary.
Other Editions of This Title:
Digital Audiobook (6/17/2019)
MP3 CD (7/22/2019)
Compact Disc (7/22/2019)
Description
** "Sharply drawn characters, rich dialogue, and a clever conclusion bode well for any sequel." —Publishers Weekly **

** "Smith skillfully bridges police procedural and espionage fiction, crafting a show-stealing sense of place and realistically pairing the threats of underworld crime and destabilized regimes." -- Booklist **

For International Espionage Fans of Alan Furst and Daniel Silva, a new thriller set in post-Soviet era Poland.

It is 1992 in Warsaw, Poland, and the communist era has just ended. A series of grisly murders suddenly becomes an international case when it's feared that the victims may have been couriers smuggling nuclear material out of the defunct Soviet Union. The FBI sends an agent to help with the investigation. When he learns that a Russian physicist who designed a portable atomic bomb has disappeared, the race is on to find him—and the bomb—before it ends up in the wrong hands.

Smith's depiction of post-cold war Poland is gloomily atmospheric and murky in a world where nothing is quite as it seems. Suspenseful, thrilling, and smart, The Fourth Courier brings together a straight white FBI agent and gay black CIA officer as they team up to uncover a gruesome plot involving murder, radioactive contraband, narcissistic government leaders, and unconscionable greed.
Praise For The Fourth Courier: A Novel…
"Sharply drawn characters, rich dialogue, and a clever conclusion bode well for any sequel."--Publishers Weekly

"Smith skillfully bridges police procedural and espionage fiction, crafting a show-stealing sense of place
and realistically pairing the threats of underworld crime and destabilized regimes." -- Booklist

"…riveting... What a great story — sad, humane, relentlessly exciting. I hope there's another novel…talents must be used to their fullest. …At the very start of Timothy Jay Smith's The Fourth Courier, we know we are in for a furious, riveting ride. His writing is humane, precise, relentlessly exciting. I dare you to read the opening and not want to race to the finish in one tightly held breath." –#1 New York Times bestselling author Robert Goolrick

"… riveting and irresistible. Smith, with his natural-born ear for dialogue and eye for description, drops us right into the narrative and the moment he does we're as much a part of the Polish landscape as the characters themselves. You're going to want to read The Fourth Courier for its arresting plot, but you'll remember it for the crisply wrought and indelible images of a Poland on the brink of change." -- David Samuel Levinson, Pulitzer Prize nominated author of Tell Me How This Ends Well
 
"Veteran novelist Timothy Jay Smith knows how to spin an interesting tale." —New York Journal of Books
 
"The Fourth Courier is well-plotted with murders, crosses, and double-crosses enough to snag any reader's interest. Smith captures the late-winter gloom of Poland as well as the edgy nervousness of the 1990s post-Cold War uncertainty in the Communist bloc. As someone who grew up with parents who considered putting in a bomb shelter, The Fourth Courier played upon those uncertainties... it was action-packed from start to finish and kept me turning pages." — Midwest Book Reviews
 
"The Fourth Courier is fast-paced and is sure to keep you guessing as to how deep the rabbit hole really goes."—The Polish American Journal
 
"Though written with a more literary flair—the reader is deeply immersed in both character and setting—The Fourth Courier reads at an astonishingly fast pace, proving that Smith is also skilled at creating a riveting plot."—The Big Thrill(200,000 UMV)
 
"Hold on to your hats for this is a snappy and speedy ride into the murky world of a post-Cold War Eastern Europe...Timothy Jay Smith has penned a gripping, intelligent thriller, atmospheric and effectively creating an uneasy picture of a Poland emerging from the last war..." —NB Magazine (UK)

 
"…one of those novels where we have no idea where it is exactly going to go, but we turn the pages with incredible rapidity! It's a beautifully written novel." — NPR affiliate, Wisconsin Public Radio, Greg Berg, WGTD-FM "The Morning Show"
 
"An exciting new novel…" —BizTalk Radio with Frankie Boyer *nationally syndicated*
 
"A fine thriller." — WBZ/Boston
 
"The book feels like it could have been ripped right out of today's headlines!"— Peter Solomon, WIP-AM+FM/Philadelphia PA
 
"This is a page turner." — Paul Miller, WPHM-AM/Port Huron MI
 
 "The Hottest new post-Cold War thriller this year." — Bookstr (38 million monthly reach and 116 million impressions)
 
"The Fourth Courier is a really exciting international thriller with LGBT themes and characters…The dialogue is so rich and the setting is wholly realized." — Bookstr (Facebook Live: 17,000+ views)
 
"Timothy Jay Smith: remember this name. Smith is a craftsman, as demonstrated in this swift-paced and tightly organized tale of arms smuggling through Poland in April of 1992. It was written by Somebody Who Was There. The experience shows. Len Deighton and John Le Carré have a nephew… The Fourth Courier is a sexy book. Gay, straight, illicit, overtly illegal, romantic with the promise of spring somewhere near the horizon - it's a bit of an amatory Coney Island. There is so little opportunity to escape the grey remains of Communism in Smith's telling that, in a certain respect, The Fourth Courier will remind a reader of I AM A CAMERA, the basis for Broadway's 'Cabaret'…  This is a captivating thriller. It is complex, with tangled murders and double-crosses and double-crosses within double crosses, as one of the principal characters complains. Even though Smith allows us to see all the players in motion as the story unfurls, we are still feeling tension and apprehension for them trapped in the complex plot. Smith makes these people very real to us, and even the worst of the worst in the story somehow manages to elicit our sympathy before it's over. Strongly recommended." —Authors on the Air/Book Review Crew
 
"All the characters are distinctive and interesting, even the minor ones. There's some steamy sex. And, the settings, from a drably elegant hotel favored by Mladic to a seedy bar in the bowels of the train station, to the wasteland near the river put you right in the scene." — Crime Fiction Lover
 
"The characters are sharply depicted as the author allows readers to get their own take on each one's flaws, strengths and abilities to find out what needs to be addressed to stop what someone has put in place... The ending lets readers know that there might be more in store for Porter as he has decisions to make concerning his own life with his children, how to deal with these feelings for Lilka and what might be next for them both. What do we learn about The Fourth Courier: Ask his wife! One powerful novel whose issues could be ripped right out of the headlines as one man's passion and goals might take down nations if he succeeds."
— Just Reviews/ "Blog Talk Radio"

"Brace for hot sex in surprising detail in this one, as FBI agent Jay Porter links up with a hot Polish airport worker with criminal connections, and Porter's CIA colleague Kurt Crawford turns the tables on the Russian general in a time when some sexual twists could mean far more danger and public shame than they do now. The writing's sharp and quick, the plot laced with unusual twists. And the portrait of cash-starved, impoverished Poland at that point is poignant and salted with very human affection." — Kingdom Books, Mystery Reviews
Arcade, 9781948924108, 320pp.
Publication Date: April 2, 2019
About the Author
Tim has traveled the world collecting stories and characters for his novels and screenplays which have received high praise. Fire on the Island won the Gold Medal in the 2017 Faulkner-Wisdom Competition for the Novel. He won the Paris Prize for Fiction for his first book, A Vision of Angels. Kirkus Reviews called Cooper's Promise "literary dynamite" and selected it as one of the Best Books of 2012. Tim was nominated for the 2017 Pushcart Prize for his short fiction, "Stolen Memories." His screenplays have won numerous international competitions. Tim is the founder of the Smith Prize for Political Theater. He lives in France.
or
Not Currently Available for Direct Purchase