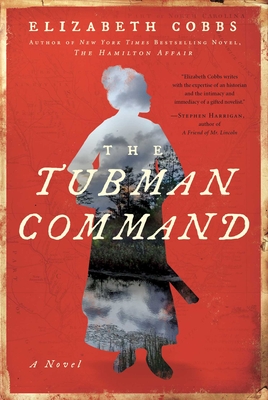 The Tubman Command
A Novel
Hardcover

* Individual store prices may vary.
Other Editions of This Title:
Digital Audiobook (5/20/2019)
Paperback (2/4/2020)
Library Binding, Large Print (9/1/2020)
MP3 CD (5/21/2019)
Pre-Recorded Audio Player (5/7/2019)
Compact Disc (5/21/2019)
Description
If you loved the movie HARRIET https://www.focusfeatures.com/harriet/ you will love THE TUBMAN COMMAND! From the bestselling author of The Hamilton Affair, a novel based on a thrilling chapter of Civil War history and African American history, how Harriet Tubman lead a Union raid to free 750 slaves.

It's May 1863. Outgeneraled and outgunned, a demoralized Union Army has pulled back with massive losses at the Battle of Chancellorsville. Fort Sumter, hated symbol of the Rebellion, taunts the American navy with its artillery and underwater mines.

In Beaufort, South Carolina, one very special woman, code named Moses, is hatching a spectacular plan. Hunted by Confederates, revered by slaves, Harriet Tubman plots an expedition behind enemy lines to liberate hundreds of bondsmen and recruit them as soldiers. A bounty on her head, she has given up husband and home for the noblest cause: a nation of, by, and for the people.

The Tubman Command tells the story of Tubman at the height of her powers, when she devises the largest plantation raid of the Civil War. General David Hunter places her in charge of a team of black scouts even though skeptical of what one woman can accomplish. For her gamble to succeed, "Moses" must outwit alligators, overseers, slave catchers, sharpshooters, and even hostile Union soldiers to lead gunships up the Combahee River. Men stand in her way at every turn--though one reminds her that love shouldn't have to be the price of freedom.

It's the perfect read before going to see the big new movie about Harriet Tubman, Harriet (November 2019) starring Kasi Lemmons, Cynthia Erivo, and Janelle Monae.
Praise For The Tubman Command: A Novel…
In Praise of the TUBMAN COMMAND:
"For reasons unknown, the U.S. Treasury appears to have shelved plans to put Tubman on the $20 bill. For those responsible for the decision, this book ought to be assigned reading."— The Wall Street Journal

"Elizabeth Cobbs' novel The Tubman Command takes a close-up view of a fascinating yet neglected episode in both Tubman's career and the Civil War. Cobbs' lively narrative fleshes out our understanding of Tubman as a woman while offering vivid portrayals of life in bondage, war-time strategies and America's knotty racial legacy."— Atlanta Journal-Constitution 

"I sped through it… Not able to put it down. The Tubman Command is a great mix of history and heart. Don't miss this page-turning tribute to Harriet and her cause." —Post Independent
 
"Cobbs brings this little-known history of Tubman and her role in the Combahee River Raid to vivid life. Meticulously researched and carefully written, The Tubman Command is a true story with the pacing and suspense of a mystery novel. Cobbs takes the reader right into the anxious uncertainty of the occupied South in the midst of the Civil War alongside one of history's most fascinating and complex figures. Through Cobbs' pen, Harriet Tubman becomes more than a legendary historical figure; she becomes an irresistible and compelling character."—Historical Novel Society

"If you think you know all about Harriet Tubman, think again—this novel brings her alive as only fiction can. With a historian's grasp of detail, Elizabeth Cobbs spins a gripping tale of romance, wartime spies, and daring escapes.  The story of Harriet Tubman's leadership of black troops behind enemy lines, The Tubman Command illuminates the unfathomable bravery of people fighting for liberty and the birth of a better nation. Harriet emerges from these pages as a brilliant strategist, master of psychology, and a fully-rounded woman whose legendary heroism has made her a cherished American icon." —Kate Manning, author, My Notorious Life
 
"Cobbs is that rare writer who possesses both the uncanny eye of the historian and the dynamism of a natural storyteller. By the last chapter I was breathless and near tears, captivated by the true tale of one woman who railed against injustice and changed the course of history." —Fiona Davis, national best-selling author of The Masterpiece
 
"A phenomenal piece of writing which humanizes one of America's most beloved icons and shows a different side of a woman whom many think they already know."— Edda L. Fields-Black, Author of 'Combee': Harriet Tubman and the Combahee River Raid (Forthcoming)

"Cobbs paints a vivid portrait of Tubman at the heart of one of the most innovative, daring, and dangerous missions of the Civil War. The heroic and brilliant Tubman is brought vividly to life as a flesh-and-blood woman and a strong and cunning leader in this compelling and instructive fictional tribute." —Booklist

"Rich historical detail adds texture, but the highlight is Harriet, a woman who repeatedly risks her life for the freedom of others. [A] terrific portrait of Tubman." – Publishers Weekly

"A stirring fictional tribute." -- Kirkus
 
Arcade, 9781948924344, 336pp.
Publication Date: May 21, 2019
About the Author
Elizabeth Cobbs is a historian, New York Times bestselling novelist, and documentary filmmaker. She is the author of four books on American history and a winner of the Allan Nevins Prize. Her novel Broken Promises: A Novel of the Civil War won the San Diego Book Award.
1. Harriet Tubman chose to leave her first husband. Whom does she fault for the ruin of that marriage? Do you agree?
2. What effect did their break-up have on Harriet?
3. How does being a woman complicate Harriet's experience as a leader? What are some of her techniques for coping with male superiors—and subordinates?
4. For Harriet, what is the price and what are the rewards of leadership?
5. How did mothers and fathers experience slavery differently? What sorrows did they face in common?
6. Harriet's memories of her sisters surface repeatedly. What role do they play in her life?
7. Harriet feels guilt in relation to her daughter. Do you think her doubts and regrets are justified? Might a male soldier feel differently?
8. Harriet falls in love with a married man. What are the sources of her ambivalence? What is the correct moral course?
9. What does "freedom to love" mean to a person in Samuel's situation? Why was marriage so complicated for those who were enslaved and then freed? Did Samuel have just one right choice?
10. Thomas Wentworth Higginson and James Montgomery disagree about how to treat Southern plantation owners. Can you see both men's points of view? Which approach do you think has a stronger basis in morality?
11. Is it true that "all's fair in love and war?
12. No one who was enslaved had protection, but the experience could affect men and women differently. None of Harriet's sisters made it to safety. What insights does this give us into how gender influenced the experience of slavery?
13. Discuss Septima, Walter, and Kizzy. What does the reader learn about Harriet from her relationships with them?
14. Harriet Tubman exhibited uncommon valor. Could anyone do what she did? Why or why not?
15. Is Harriet Tubman a Christ-like figure? Does she want to be?
16. The Ten Commandments say, "Thou shall not bear false witness." Harriet Tubman deceives enemies, friends, and family. Why, in each case? How does this affect her?
17. Discuss Tubman's physical disability. What does it tell the reader about her?