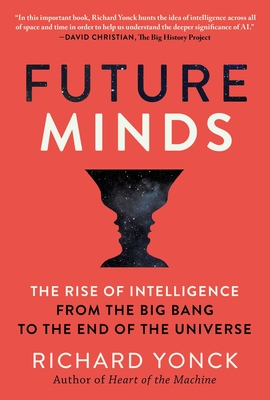 Future Minds
The Rise of Intelligence from the Big Bang to the End of the Universe
Hardcover

* Individual store prices may vary.
Description
For readers of Michio Kaku and Stephen Hawking, the book readers have acclaimed as "A mega-comprehensive outlook at intelligence as convincing as it is surprising" and "A truly breathtaking forecast on the future of intelligence."

With the ongoing advancement of AI and other technologies, our world is becoming increasingly intelligent. From chatbots to innovations in brain-computer interfaces to the possibility of superintelligences leading to the Singularity later this century, our reality is being transformed before our eyes. This is commonly seen as the natural result of progress, but what if there's more to it than that? What if intelligence is an inevitability, an underlying property of the universe?
 
In Future Minds, Richard Yonck challenges our assumptions about intelligence—what it is, how it came to exist, its place in the development of life on Earth and possibly throughout the cosmos. Taking a Big History perspective—over the 14 billion years from the Big Bang to the present and beyond—he draws on recent developments in physics and complexity theory to explore the questions: Why do pockets of increased complexity develop, giving rise to life, intelligence, and civilization? How will it grow and change throughout this century, transforming both technology and humanity? As we expand outward from our planet, will we discover other forms of intelligence, or will we conclude we are destined to go it alone? Any way we look at it, the nature of intelligence in the universe is becoming a central concern for humanity. Ours. Theirs. And everything in between.
 
Praise For Future Minds: The Rise of Intelligence from the Big Bang to the End of the Universe…
"Yonck's capacity for weaving together a tapestry of issues that have shaped and will shape intelligence is mind-blowing. While you might wonder how the Big Bang and the end of the universe are relevant to choices you make today, they are. Future Minds shows how we need to re-think business, society, and our lives based on the transformational future of intelligence."—Cindy Frewen, FAIA, PhD, Urban Futurist, former chair of the Association of Professional Futurists
 
"Will artificial intelligence leave us behind like roadkill? Or help us build revolutionary new futures for humanity? In this important book, Richard Yonck hunts the idea of intelligence across all of space and time in order to help us understand the deeper significance of AI."—David Christian, founder of The Big History Project
 
"Breaking free from the anthropomorphism that defines so much work on intelligence, Yonck makes a space in our minds for the ancient evolutionary world of the non-human thought and a futuristic world of hybrid human-machine mentation. Taking us beyond our cultural obsession with the Turing Test with its armies of chess- and Go-playing manqués, neural network classifiers, and sinister face detectors, Yonck follows the scent of mind to its roots in the origin of matter and its future in the extended phenotype."—David Krakauer, President and William H. Miller Professor of Complex Systems, Santa Fe Institute
 
"In the tradition of Lovelock, Prigogine, and Hawking, Richard Yonck takes the reader on a deep dive into the nature of intelligence and its evolution. Laying out the case for an almost inevitable rise of super-intelligence, whether artificial or via merging of human and artificial minds, Yonck takes us into the distant future when we might hope for a role in spreading such intelligence into the galaxy and beyond. An exhilarating ride."—Glen Hiemstra, founder of Futurist.com
 
"In Richard Yonck's fascinating Future Minds, we rocket through the origins of intelligence and witness—close up—the inevitable melding of biological and silicon minds. This book will leave you spellbound and more curious than ever about what the future has in store."—Alexandra Levit, author of Humanity Works
 
"Using the lens of Big History, Richard Yonck paints a fascinating picture of the rise of intelligence in nature. It grows out of the dust of probability, increasing in organizational complexity as it stretches toward freedom. Future Minds makes a compelling argument that the human brain as we currently know it is far from the ultimate expression of mind."—Gideon Rosenblatt, author of The Vital Edge

"Futurists and sf readers may be interested in portrayals of a universe yet to come, while humanities or social science instructors could use this theoretical book as the basis for classroom discussion about the potential consequences of technological progress."—Library Journal

Praise for Heart of the Machine:
 
"Yonck is a sure-footed guide and is not without a sense of humor . . . [He] provides a compelling and thorough history of the interaction between our emotional lives and our technology." —Ray Kurzweil, The New York Times Book Review

"A fascinating, and sometimes disturbing, look at a rapidly approaching future where smart machines understand and manipulate our emotions—and ultimately bond with us in ways that blur the line between ourselves and our technology." —Martin Ford, New York Times bestselling author of Rise of the Robots: Technology and the Threat of a Jobless Future

"Richard Yonck's Heart of the Machine is a fascinating speculation on the near- and far-term significance of emotions for user interfaces, machine-mediated communication between humans, and what technology and humans may become." —Vernor Vinge, computer scientist and Hugo Award–winning author of Rainbows End

"Your world is about to change in shocking and amazing ways. The line between machines and humanity is blurring giving us a strange and beautiful tomorrow. Yonck takes us on a journey through this world from the science and technology of today and into the possibilities and perils that lay just over the horizon. If you want to catch a glimpse of the future open this book." —Brian David Johnson, former chief futurist at Intel and founder of the 21st Century Robot Project

"[Yonck] makes a compelling argument for why affective computing (technology that can read, interpret, replicate, and experience emotions and use those abilities to influence us) is the key to AI and the heart of how we will work with computers. . . . an engaging read." —Library Journal

"Very important for any decision-maker and a must-read for corporations for planning their road map. It is also recommended to everyone who is curious enough to understand the future. Even the very near future." —Yoram Levanon, chief science officer at Beyond Verbal Communication, Ltd.

"How we interact with technology is changing: it is becoming more relational and conversational. Yonck makes a very strong case why our devices and advanced AI systems need to have emotional intelligence, specifically the ability to sense human emotions and adapt accordingly. This book highlights key considerations both for academic researchers as well as business leaders looking for commercial applications of AI." —Rana el Kaliouby, cofounder and CEO of Affectiva

"By using the futurist's most valuable communications tool—the scenario—to introduce his chapters, Yonck moves between anecdotes from research in affective computing and AI/robotics to speculative scenarios, all with the even hand of a skilled storyteller." —Cynthia G. Wagner, consulting editor at Foresight Signals, former editor of The Futurist magazine
 
Arcade, 9781948924382, 336pp.
Publication Date: March 17, 2020
About the Author
Richard Yonck is a futurist, author, and speaker with Intelligent Future Consulting based in Seattle. An award-winning author on developing trends and technologies, he has written features and cover stories for numerous publications and web sites, and is the computing and artificial intelligence contributing editor for the long-running The Futurist magazine. He has been published in Scientific American, World Future Review, Fast Company, Wired, Psychology Today, H+ magazine, American Cinematographer, and the Seattle Times.